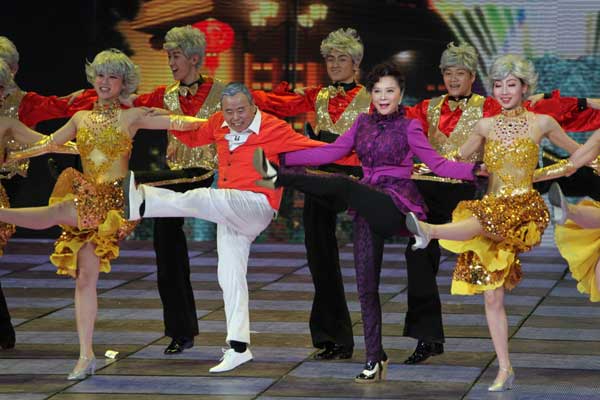 Popular performers Pan Changjiang (second from left) and Cai Ming (third from left) perform a skit and dance program on CCTV's Spring Festival Gala in 2013. Photo provided to China Daily
As more foreign faces appear on the Chunwan stage, the gala is also looking to go outside.
CCTV is ready to license the rights to broadcast Chunwan to foreign TV stations for free, said Zhao Wenjiang, deputy director of CCTV programming center, at a news briefing on Monday.
This ongoing global campaign for Chunwan also includes a program package, consisting of selected programs from previous galas and three gala-themed documentaries, which will be telecast in English, Hindi, Portuguese and other languages across 24 TV networks in 16 countries.
The programs will also be launched via social media platforms such as YouTube, Google Plus and Twitter to reach an expected 230 countries and regions, says Ma Runsheng, assistant to the president of China International Television Corporation.
"Our purpose is to give overseas Chinese and foreigners who are interested in Chinese culture a chance to see Chunwan," Ma says.
David Moser, scholar of Chinese cultural studies and now a host with CCTV's English channel, was chosen to perform in a skit by foreigners at the Gala in 1999. He says that Chunwan is a valuable window for foreigners to understand Chinese society better.
It has become even more so in recent years, as many Chunwan programs have become more socially relevant by encompassing social problems and controversies, he says.