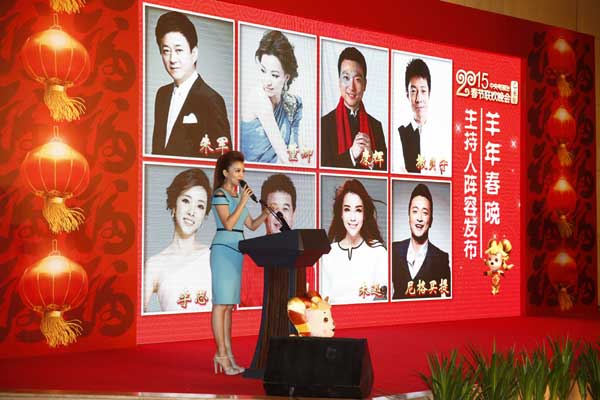 Zhu Xun, one of eight people to host this year's show, speaks at a news conference on Monday to announce members of the hosting team. Photo provided to China Daily
However, because of its old-fashioned forms of performances and conservative choice of artists, Chunwan has often been criticized for being too serious and straight-arrow, and thus said to be losing young audiences. Zheng Weidong, deputy managing director of CSM Media Research, says that in fact Chunwan's audience profile has been steady since 2001. In 2014, viewers between the ages of 15 and 34 comprised about 28 percent of Chunwan's total audience.
In the past decade, CCTV has been seen making clear attempts to appeal to the youth. Eye-candy pop stars, once reportedly deemed by CCTV to be too amateur for such a traditional stage-especially those rising to fame through reality TV shows, have made regular appearances on Chunwan in recent years.
This year, pop singer Zhang Liangying will perform on her third Chunwan, alongside her onetime fellow contestant at Hunan TV's Super Girl show and now super idol Li Yuchun. Surprising names on this year's star list also include Lu Han and Wu Yifan, both former members of a South Korea-produced boy band who've achieved enormous popularity, especially among the post-1990 generation.
"Every year Chunwan features a certain number of new faces, to both give voice to talented young artists and satisfy the needs of young audiences," 2015 Chunwan's song and dance director Wang Gongguan told Chinese media.
Appearances by foreign celebrities are also part of Chunwan's growing appeal to young people, with actor and singer Lee Min-ho becoming the first South Korean pop icon to take the stage in 2014. Foreign stars who have previously performed at the Lunar New Year extravaganza include Celine Dion and Sophie Marceau.