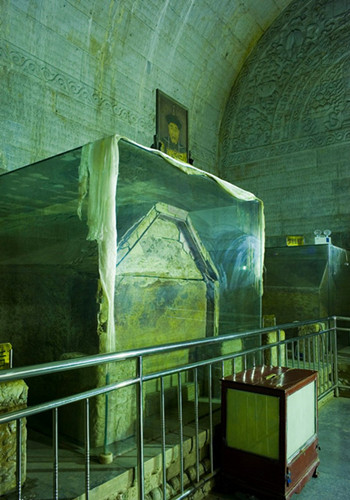 The coffin of Emperor Qianlong [people.com.cn]
Eight coffins from Qing Dynasty (1636-1912) imperial figures, including Emperor Qianlong and Empress Dowager Cixi, will be moved to prevent them from decay, said archeologists in North China's Hebei province.
All of the coffins are housed in the imperial family's royal tombs, now named as Eastern Qing Tombs in Zhunhua city, Hebei.
Coffin rescue and restoration work approved by the State Administration of Cultural Heritage and will use traditional carpentry and painting, Wang Zhaohua, Head of Cultural Relics Management Office of Eastern Qing Tombs, said.
The tombs were looted in 1928 with a large amount of rare treasures, buried as funeral objects, especially from the tombs of Empress Dowager Cixi and Emperor Qianlong, were ransacked. The coffins were split open by the troops of warlord Sun Dianying.
The coffins have since been decaying in the tombs, dubbed as the "underground palace", where the environment was humid.
"We need to remove the decayed parts and repair them using low nitrogen oxygen technology in order to conserve the coffins for the long term. The Maintenance cost is estimated at 15 million yuan ($2.4 million) preliminarily," said Wang.
The Eastern Qing Tombs consist of 15 mausoleums and 586 individual buildings housing 161 Qing Dynasty imperial family members.