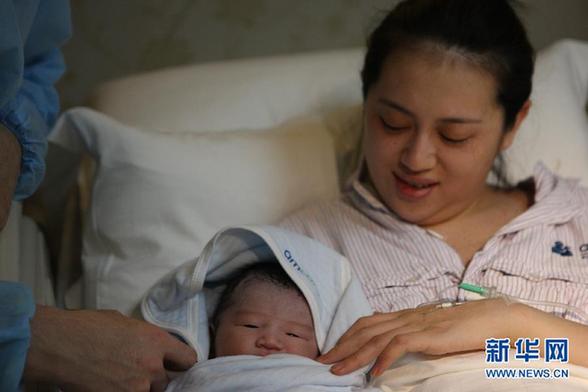 A young mother and the first baby born at the Amcare Women's & Children's Hospital in Beijing in the Year of the Horse on Jan 31, 2014 [Photo/Xinhua]
With the Year of the Sheep approaching in no less than three months, maternity hospitals throughout China are overwhelmed with pregnant women having their babies born in the Year of the Horse.
Deep rooted superstition
In formal Chinese astrology, the birth sign system is a 12-year rotation that starts with the rat, followed by the ox, tiger, rabbit, dragon, snake, horse, sheep, monkey, rooster, dog and ends with the pig.
As an old Chinese saying goes, "Shi yang jiu bu quan", literally meaning, nine out of 10 people born in the Year of the Sheep will suffer greatly, is still prevailing in many parts of the country.
Even with the modernization of China, the threat of the Year of the Sheep continues and people believe that those born in that year will have bad luck all their lives. .
Origins of "Shi yang jiu bu quan"
However, as a matter of fact, the Chinese forefathers used to associate the sheep with nice things, which is evident itself in the Chinese idioms with the character "Yang" (sheep, in English). For example, "San yang kai tai" (three rams bring bliss, in English) has a positive and harmonious implication of propitiously pleasant and symbolizes making a good beginning, to which a happy end comes. "Yang" is also used to form other phrases meaning "beauty", "luck" and "kindness".