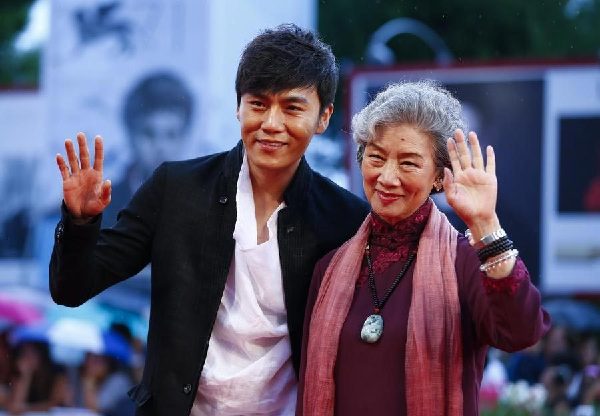 Cast members Qin Hao (L) and Lu Zhong attend the red carpet for the movie "Chuangru zhe" (Red amnesia) at the 71st Venice Film Festival September 4, 2014. [Photo/Agencies]
According to media reports, the film was enthusiastically received by viewers at the
premiere
and some said Lv's stunning performance could have won her the best actress award at the festival.
"But she really is a great old artist, and comforted me saying that the most important thing was to have well done our work," Wang told Xinhua.
As a highly experienced stage actress from Beijing People's Art Theatre, Lv has played in several films.
An Italian movie director, Giorgio Grasso, told Xinhua he appreciated a variety of elements, from the technique to the new angle of the film about reflection on China's recent history, but especially the main actress' recitation, which he highlighted was "sublime."
In his view, Chuangru zhe marked the increasing quality rise of Chinese cinema that year after year is better known and appreciated at the international level.
"I am so glad that viewers in Venice were really interested in Chinese films," Wang said, adding he was confident that Chuangru zhe will be successfully distributed also in China.
In his view, films should be shot for the pleasure of doing cinema and not for commercial purposes, and film festivals have an important role in promoting art house works.
A total of seven Chinese-language works were presented in the 71st Venice film festival, which also hosted for the first time a China Film Forum entirely dedicated to the Asian country.