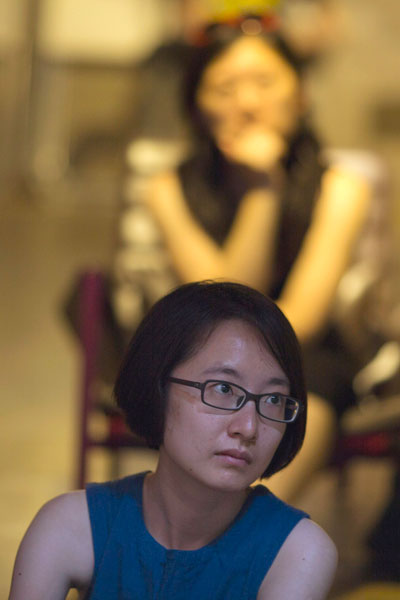 Wang Anqi listens to others during a rehearsal for The Leftover Monologues. In the drama, Chinese and foreign women and men tell their own stories of searching for a partner. [Photo/Agencies]
Monologues drama shines a light on 'leftover' women and the pressure to marry, The Associated Press reports.
For many of today's Chinese youth looking for a partner, love takes second place to parental pressure, moving up the social ladder and a heavy dose of fear drummed into women that they will end up as "leftover". These aspects and others relating to love, dating and women's status in the Middle Kingdom was examined on Saturday in a China-inspired version of The Vagina Monologues, a Broadway hit exploring womanhood that got actresses voicing women's most intimate feelings to packed theaters.
In The Leftover Monologues, Chinese and foreign women - and a few men - told their own stories of searching for a partner, their observations of love and sex, and the panic aroused by the thought of becoming a "leftover woman", defined by a women's agency as a single urban female over 27 years.
Wang Anqi is only 23 and already worried.
"People start to use 'leftover' to somehow remind us to lower our criteria, be realistic, be practical and go out and find somebody," says Wang, who talks about how the term has knocked her self-confidence. "They will say, 'Time flies, now you think you are excellent, young, you can find any guy you like, but in just a blink you will be 30.'"
The Vagina Monologues has been performed in Chinese universities but its first professional performance in Shanghai was stopped the day before it was to open in 2004, reportedly because of sensitive content, including the word "vagina".
Its Chinese sister is an amateur production held at a central Beijing arts venue called Meridian Space; 16 people delivered monologues. It is the brainchild of Roseann Lake, an American journalist who has just finished writing a book about love in China.