Leftover women or an unappreciated feast?
In China, single women in their 30s have become the target of attention for the wrong reason, not for their professional achievements but for their perceived undesirable marital status. This is the result of applying outdated yardsticks to a significant new social phenomenon.
The biggest news story gripping China for the past two weeks is a trivial one. It involves only two people - Faye Wong and Li Yapeng - who announced on Sept 13 that they had just divorced.
Wong is a superstar singer whose every move is covered by reporters or paparazzi. Li is an actor with a lower profile, a second-tier star, you could say.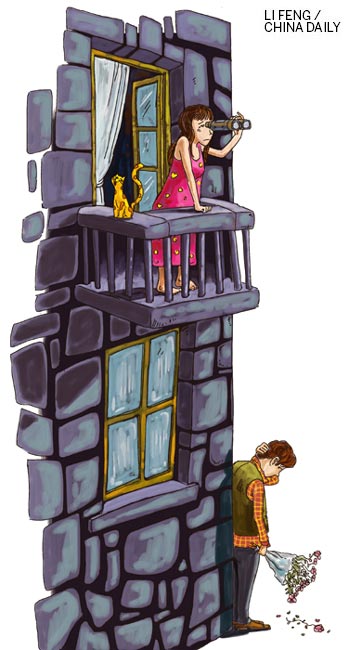 They were married in 2005. For the first couple of years of their marriage, few bet that it would last. Apart from the chasm in professional achievements, there was also the age gap. Wong is two years older - although she used to date Nicolas Tse, a singer-actor 11 years her junior.
But the Wong-Li divorce shocked many because they seemed to have overcome the seven-year itch, so to speak.
Now I'm not in a position to comment on their marriage and the ultimate separation. What little I gathered about them was from their micro blog postings, such as Li's remark: "I wanted a family, but you're destined to be a legend."
Wong does not have a busy career, it seems. She commands such exorbitant fees that she once retired for five years before returning to the concert stage.
In other words, Wong is not the best representative of a group of women so successful that few men are qualified to be their match.
But in urban China, a demographic of young career women has emerged. These are white-collar professional women, often in management positions, and with great looks to boot. But they are considered dangerously close to "being beyond marriageable age".
They are called the "leftover women" in China.
One has to remember that China has a surplus of men, which, according to some surveys, will reach 30 million by the year 2020. How can a woman be too old to find a spouse in such a gender-skewed society?
Yet, the "leftover women" phenomenon has its own twisted logic. Chinese tradition has it that people marry their social peers, or in old parlance, "the houses and doors should match between the two sides". When a disparity in social rank exists, men tend to marry downwards while women do the opposite.
Related:
Faye Wong announces her divorce
Faye Wong and Li Yapeng shock fans with divorce
For more X-Ray, click here