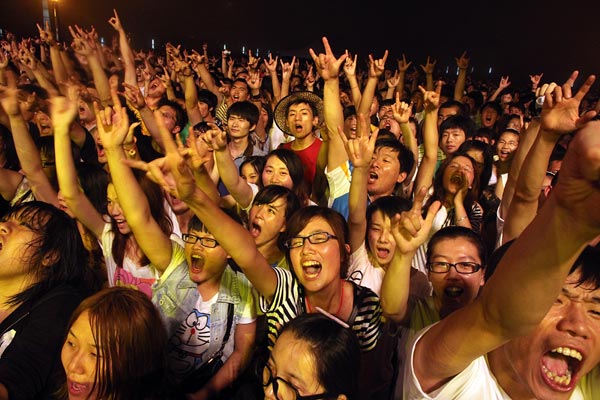 Fans cheer at this year's Strawberry Music Festival. Photo provided to China Daily
The intense attention has also led to some problems, such as conflicts between bands, littering and traffic jams outside the venue.
Shen has been trying to improve Strawberry Music Festival every year.
"We have used the best sound equipment and the best stage settings. Now we have to think how to solve the problems aside from music quality, because the scale of the music festival has grown bigger and bigger," he says.
While expanding their territories across the country, the music festival organizers are also looking for ways to enrich the variety of the performances.
Zhang, director of Beijing-based Midi Music School, says music festivals have been synonymous with rock music since he started Midi Music Festival 15 years ago at the campus of the school, celebrating the graduation of the members of several indie rock bands.
Since then, Midi Music Festival has become known for its rock spirit and pioneering rock bands, such as Miserable Faith and Escape Plan.
In May, the three-day music festival on the outskirts of Beijing drew more than 70,000 people. But in its first outing in Suzhou, from Oct 5 to 7, Zhang says the focus is likely to shift to world and folk music.
"We have had a folk music stage at our festival since 2007, and we have also organized a jazz music festival before. The feedback was good. We want to offer more options for music lovers," Zhang says.
The first year Song, managing director of Evergrande Music, launched Evergrande Starlight Carnival Music Festival, he was aiming to popularize the idea of music festivals among fans in smaller cities.
"We have to motivate the music industry just like the film industry," he says, citing low ticket prices and intensive touring as two ways to attract bigger audiences.
This year, Song will increase the number of mainstream pop musicians to challenge the expectation that a music festival is solely for indie bands.
"Established music festivals gather artists of different music genres. When I went to Summer Sonic (in Japan) for the first time, I not only saw Coldplay but also Alicia Keys. I think China's music festivals should go in that direction," Song says. "While improving the facilities, transportation and other services, music is still the core."