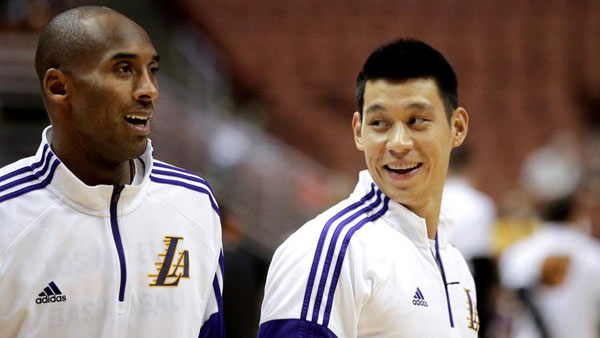 The Lakers' starting backcourt of Kobe Bryant, left, and Jeremy Lin will have plenty of motivation to play well in the season opener against Dwight Howard and the Houston Rockets. [Photo/Agencies] 
Baron Davis shot around in street clothes after the Lakers practiced Sunday. No, they won't be signing him.
Their point-guard depth is the width of dental floss, but they're hoping for a career year from Jeremy Lin, the starter in Tuesday's season opener against Houston, the very team that traded him unceremoniously a few months ago.
The mild-mannered Lin, 26, isn't exactly willing to embrace the vengeful factor even though the Rockets demoted him to second string last season. And tried to woo Carmelo Anthony with giant images outside their arena of the Knicks forward in a No. 7 Rockets jersey — Lin's number. And then ultimately salary-dumped Lin to the Lakers in a trade that had to be sweetened with the Rockets' first-round pick.
"I guess it is a little ironic, but I'm trying not to build this game up into anything, make it any bigger than it is. The headline is 'Kobe [Bryant] vs. Dwight [Howard],' all right?" Lin said Sunday.
There's also that angle — Howard coming back to the city where he spent one terribly askew season — but it felt a touch like last year's news.
Lin will be the starter against Houston, Lakers Coach Byron Scott said Sunday, but there weren't many other options at point guard.
Steve Nash is out for the season, veteran Ronnie Price is limping around with a bone bruise on his right knee and rookie Jordan Clarkson is just returning from a strained calf.
"Well, really, I'm just the starter, I feel like, because I'm healthy," Lin said.
The Lakers are hurting, to say the least. There weren't enough healthy bodies for a five-on-five practice Sunday.
Xavier Henry is sidelined because of a sore knee, Jordan Hill has been bothered by a strained neck and Nick Young is out at least another month (torn thumb ligament). Hill might play Tuesday, but Wayne Ellington will sit because of a concussion and Ryan Kelly is out because of a strained hamstring.