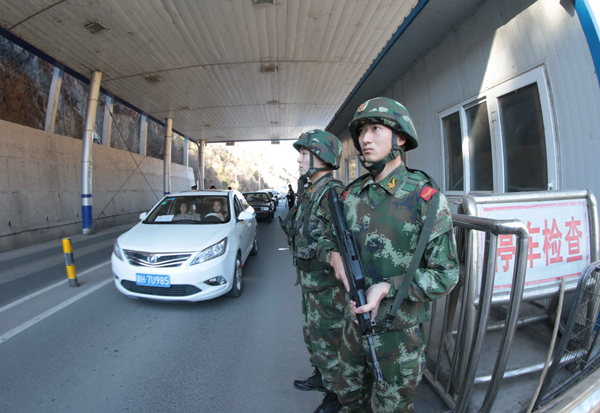 Armed police officers stand on duty at a checkpoint in Beijing suburbs on Sunday. Security in the capital has been beefed up for the APEC meeting next month. Li Guangyin / For China Daily

Beijing will increase the frequency of its high-speed trains to meet the demand of Beijing tourists during the APEC conference next week.
Residents in the capital will have a six-day holiday during the meeting, and they are encouraged by the government to travel outside the city.
According to Beijing's Municipal Railway Bureau, 14 trains will be added from Nov 6 to Nov 8 to help passengers travel between Beijing and Shanghai, Hangzhou, Hefei and Zaozhuang.
"These routes were chosen based on tourists' choices of destination as well as the sales of tickets," said Sun Yongtang, director of publicity at the bureau.
According to China's official online train ticket sales website, the routes from Beijing to eastern China are under great pressure. For the first day of the vacation, the majority of tickets to Shanghai, Nanjing and Hangzhou have sold out.
The bureau is also offering to ship individual drivers' vehicles so they can pick them up when they arrive at their destinations.
The service will be available from Nov 4 to Nov 14 from Beijing to Zhejiang, Sichuan, Jiangxi, Hunan, Shaanxi and Hubei provinces. Fees range from 1,400 yuan ($230) to 4,000 yuan.
It also has offered extra travel services such as hotel bookings, tickets for scenic spots and local guides.
"We ran a trial (of the service) in Hangzhou during the National Day holidays with a limit on the number of applicants for the shipping service. It turned out to be popular, so we have five more destinations this time, and we have no limit on the number this time," said Sun.
"In the future, we will introduce more featured service based on tourists' demands," added Sun.
Zhang Guangrui, honorary director of the Tourism Research Center at the Chinese Academy of Social Sciences, said this move showed that tourism-related industries, especially the railway industry, are responding much more quickly to changes in the tourism market, and he said he expects more changes in the future.
"The high-speed railway has changed the tourism map in China," said Zhang. "In a certain range of distance, it is a better choice than coach or flights because of the relatively cheap price, shortened time and much more convenient experience. Many cities would not become a tourism destination if they were not connected by the high-speed train network."
suzhou@chinadaily.com.cn


Timeline
Schedule of added trains
Nov 6
G155: 17:22-23:04, Beijing-Shanghai
G124: 11:05-16:37, Shanghai-Beijing
G159: 17:50-23:28, Beijing-Shanghai
G128: 11:15-17:00, Shanghai-Beijing
Nov 6
G269: 17:39-21:45, Beijing-Hefei
G268: 12:46-17:08, Hefei-Beijing
Nov 6-8
G2681: 9:27-16:06, Beijing-Hangzhou
G2682: 16:50-23:06, Hangzhou-Beijing
Nov 7
G103: 7:05-12:42, Beijing-Shanghai
G136: 13:17-19:00, Shanghai-Beijing
G123: 11:05-16:42, Beijing-Shanghai
G156: 17:19-22:49, Shanghai-Beijing
Nov 7
G179: 6:27-9:13, Beijing-Zaozhuang
G180: 9:35-12:12, Zaozhuang-Beijing