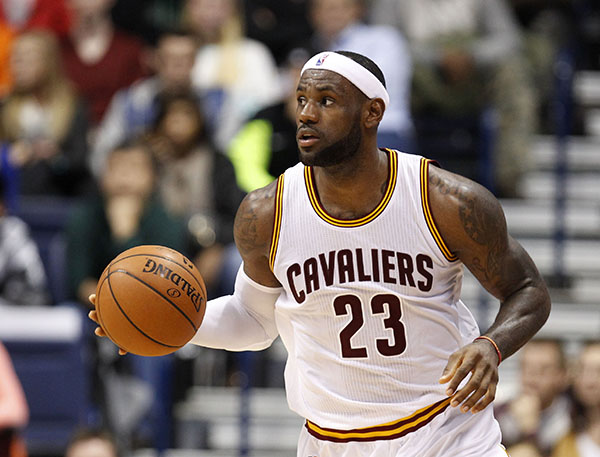 Cleveland Cavaliers forward LeBron James (23) brings the ball down court against the Indiana Pacers during the first half at the Cintas Center in Cincinnati, Oct 15, 2014. [Photo/Agencies]
LeBron James returned to Cleveland, Kevin Love joined him and suddenly the Cavaliers had the makings of the latest superteam.
The San Antonio Spurs are already one.
No big changes were necessary for the Spurs, who simply kept the gang together. They brought back nearly every piece from the team that annihilated James and the Miami Heat in the NBA Finals for their fifth championship.
James set off shortly after for a new start in his old home, where he will renew the quest for a championship that's eluded Cleveland's pro teams for half a century. The Spurs on Tuesday will begin chasing about the only thing that's escaped them in the Gregg Popovich-Tim Duncan era: back-to-back titles.
"We know that every team is going to come out and give us everything they've got," Spurs guard Danny Green said. "We've got a bigger target on our chest now and that's what we want. ... We've got to take on the challenge and be the ultimate competitors that we are."
Teams will be coming just a s hard at the Cavaliers, who didn't win much more than draft lotteries after James bolted for Miami in 2010. But they were elevated to instant Eastern Conference favorites when James joined Kyrie Irving, the MVP of the All-Star game and the Basketball World Cup, and Love, the longtime Minnesota Timberwolves star.
Neither of those guys has even played in a postseason game, but inexperience _ or anything else _ won't work as an excuse now that James is back in his familiar No. 23.
"It's going to be a different challenge for them," James said. "They were so accustomed to being the prey sneaking up on the predator. Now it kind of changes."
James and the Spurs could meet for the third straight June, a familiar NBA Finals plot with a new stage and co-stars. But both face significant challenges just to get there.
Derrick Rose's return could lead a running of the Bulls right to the finals. Maybe Oklahoma City, once MVP Kevin Durant recovers from a broken foot, or the Los Angeles Clippers, looking to pay back record-spending new owner Steve Ballmer with a championship, could stand in the Spurs' way.
"I don't see it as a big question mark in the East. LeBron and Love and Irving will be in the Eastern Conference finals. I think Chicago will find their way there if their 2 and 3 hold up and if Rose is Rose again," ABC/ESPN analyst Jeff Van Gundy said. "But out West, to me there are like five teams you could say, `I could see them advancing to the finals."'
None has the continuity of the Spurs, who brought back 14 of the players who had confetti falling on their heads after Game 5. They won't be in top form for a while because of injuries, especially NBA Finals MVP Kawhi Leonard's eye infection, but they still stand out even among the other top teams in the loaded West.
"I think we're all right next to each other _ other than the Spurs," Clippers coach Doc Rivers said. "The Spurs are better than all of us. I don't think there's any question about that and so we have to catch the Spurs."
Here are other things to watch as the NBA season begins:
WILL OKC BE OK? Durant is likely out until December because of a broken bone in his right foot. He carried the Thunder through the absence of Russell Westbrook last season, and now Westbrook may need to raise his game to keep Oklahoma City among the West leaders.
WELCOME BACK: Rose and Kobe Bryant are back after knee injuries kept both former MVPs sidelined most of last season. Only Rose has realistic title hopes, as Bryant's Lakers could be headed for another rough season after losing a franchise-record 55 games in 2013-14.
KEEP PACE? Eastern Conference finalists last season, the Indiana Pacers lost All-Star Paul George to a broken foot and Lance Stephenson to Charlotte in free agency, leaving a team that struggled to score without its two best offensive players. The Pacers will still defend, but can they find enough points to stay in the playoff picture in an improved conference?
OH, CANADA! Even with Steve Nash's career possibly over because of a back injury, there could be around a dozen Canadians on NBA rosters, topped by Andrew Wiggins and Anthony Bennett, the last two No. 1 overall picks who were dealt from Cleveland to Minnesota in the Love trade.
TAKE A BREAK: Look for fresher players to start the second half of the season after the NBA extended the All-Star break to give teams at least a week off around the Feb. 13-15 weekend in New York.