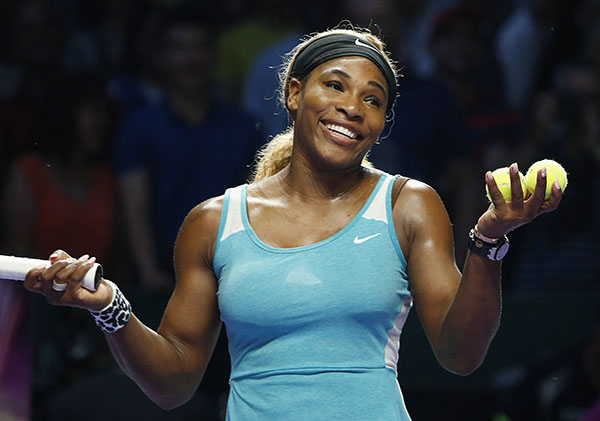 Serena Williams of the U.S. smiles to the crowd after defeating Eugenie Bouchard of Canada during their WTA Finals singles tennis match at the Singapore Indoor Stadium October 23, 2014. [Photo/Agencies]
SINGAPORE - Serena Williams rebounded from the worst beating of her professional career to rout Eugenie Bouchard 6-1, 6-1 at the WTA Finals on Thursday.
Williams was humbled by Simona Halep the previous day, when the 18-time Grand Slam champion won only two games.
She turned around and eliminated Bouchard from semifinals contention with a 0-3 record in the round-robin stage, while Williams improved to 2-1. The American will have to wait until Friday's match between Halep and Ana Ivanovic to know if she is through to the semis.
Williams will make the final four unless Ivanovic manages to beat Halep in straight sets. Halep is guaranteed of a semifinal berth.
Meanwhile, the outcome of the other group remains uncertain, with none of the four players qualified for the semis, and none eliminated from contention.
Petra Kvitova beat Maria Sharapova 6-3, 6-2, further eroding the Russian player's hopes of claiming the year-end No. 1 ranking.
Sharapova, who needs to win the title and rely on Williams not reaching the final in Singapore if she is to bump the American from the top spot, fell to a 0-2 record while Kvitova is 1-1.
In order for Sharapova to progress to the semis, she will need to win her last match against Agnieszka Radwanska and rely on Caroline Wozniacki beating Kvitova, and have both matches decided in straight sets.
Sharapova, who lost the Wimbledon final to Kvitova in 2011, beat the Czech left-hander in their past five meetings and started brightly by winning the opening two games. But Kvitova took over from there, winning 11 of the next 12 games.
Kvitova said she was feeling burnt out during her first-round loss to Radwanska, so took an unusual approach to freshen up for Thursday's match.
"When I lost against Aga ... I was so tired and sick of the tennis for a moment," Kvitova said. "So I didn't practice today at all, and I just really relaxed and cleaned my mind a little bit."
Sharapova had no answers as Kvitova reeled off deep winners to take charge.
"I didn't feel as sharp as I did in the previous matches against her," Sharapova said. "I just don't feel that I reacted as well in her bigger shots. She's someone that likes to play aggressive and hit the ball, and very deep as well. She countered my shots extremely well and I was just never ready for the next ball."
Earlier, Wozniacki moved closer to a place in the semis by beating Radwanska 7-5, 6-3 for her second win in the group stage.
The first set, which began with four service breaks in five games, lasted 67 minutes and contained some lengthy rallies that were punctuated by superb shot-making.
Radwanska ended up the loser but played a couple of extraordinary volley winners: One picked up at her shoelaces and lifted diagonally over the net, and another leaping effort played with her back to the net.
"It was a couple of amazing rallies and a couple of amazing shots as well," said Radwanska, who has a win and a loss. "I just needed some more good serves as well in that match."
Wozniacki was able to smile after Radwanska's trick shots.
"I'm like, 'OK, you know what, that's just too good,"' Wozniacki said. "You can either get frustrated or laugh _ it's better to laugh."