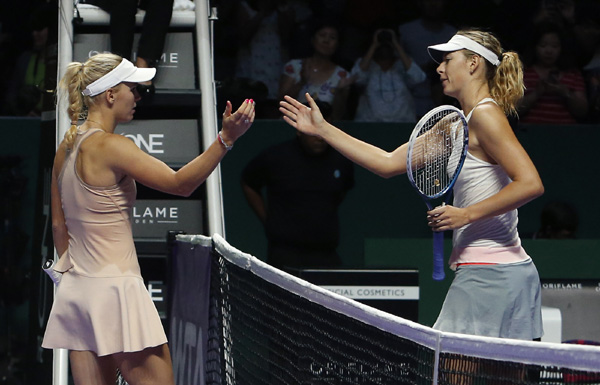 Caroline Wozniacki of Denmark (L) is congratulated by Maria Sharapova of Russia after their WTA Finals singles tennis match at the Singapore Indoor Stadium October 21, 2014. [Photo/Agencies]
SINGAPORE - After three hours and 14 minuets' marathon, world number eight Caroline Wozniacki took the game winning shot against second-placed Maria Sharapova, winning 7-6 (7-4), 6-7 (5-7), 6-2 late Tuesday at the WTA Finals in Singapore.
After Wozniacki took a very good start at 2-0, the two were soon locked in an extended battle. Sharapova managed to take the lead at the tie break, but Wozniacki soon scored 5 straight points to end the first set at 7-6 (7-4).
The situation was quite similar at the second set, but Wozniacki finally lost at the tie break at 6-7 (5-7).
However, the Danish soon adjusted her conditions and took the lead in the third set, which helped her to beat the strong Russian rival at 6-2.
It was a memorable return to the fold for Wozniacki, whose last WTA Finals appearance came in 2011.
"I'm happy to win today. Everyone wants to be here. At the start of the year it's our goal," she said. "In the middle of the year it didn't look like I had a chance but I had an amazing summer, reached the US Open final and now I'm back. It feels great!"
For Sharapova, it took a step away from her wish to end the year at No.1.
"(I) felt like I had opportunities in the first set, but I didn 't commit to finishing it off when I was serving for it, when I was up in the tiebreaker," She said.
With 15 double faults, three times the number of her rival and a 57-percent first service, Sharapova admitted she needs to improve the serving in the following games.
"The serve was definitely not helping me. She served much better in the first set than I did. I think that really changed things around in the tiebreaker," She said.
The two players also complained about the light problem in the Newly-built Sports Hub.
In the following match, sixth-ranked Agnieszka Radawanska beat third-ranked Petra Kvitova at 6-2, 6-3.