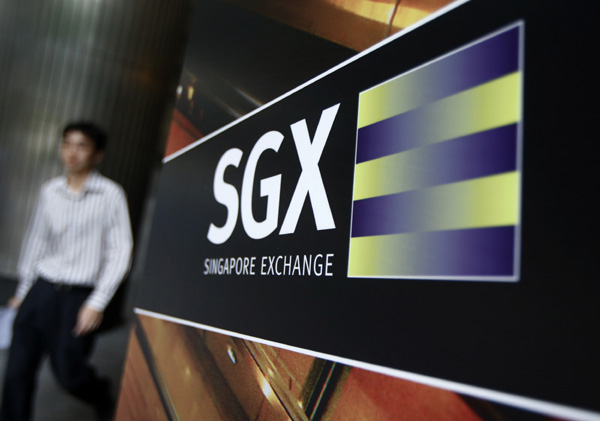 An office worker walks past the logo of the Singapore Exchange outside its premises in the financial district of Singapore. The nation, already an offshore trading center for the yuan, is looking to China further opening up to help reverse a continued slump in the exchange's profit. [Photo/Agencies]
Singapore bourse says it expects a rise in derivatives as HK-Shanghai link develops
Hong Kong and Shanghai aren't the only exchanges with profits riding on the soon-to-be launched bourse link, Stock Connect.
Singapore Exchange Ltd plans to develop more derivatives focused on the world's biggest emerging market after the volume of FTSE China A50 Index futures jumped to a record last quarter, Michael Syn, head of derivatives at SGX, said in an interview last week.
The Hong Kong-Shanghai stock-trading program announced in April is reviving foreign investor appetite in Chinese mainland shares, Syn said.
"Trading has been driven by interest and demand for access to Chinese capital markets," said Syn. "This will be a long-term growth driver and we will continue to invest to develop these products."
Singapore, already an offshore trading center for the yuan, is looking to China further opening up to help reverse a four-quarter slump in the exchange's profit.
The eagerly awaited Hong Kong and Shanghai stock link is facing a setback, after Hong Kong Exchanges & Clearing Ltd Chief Executive Officer Charles Li said he didn't know when regulators will allow the plan to go forward. Brokers had been expecting an October start date.
Investors traded 10.8 million of the Chinese index futures contracts through Southeast Asia's biggest bourse in the three months ended Sept 30, with a notional value of $75 billion, compared with 5.2 million contracts worth $36 billion in the same period a year earlier, according to SGX.
Syn declined to comment further, when asked about the impact of the stock-link delay on trading volume.
The Shanghai Composite Index rallied 8.8 percent amid prospects for increased inflows since Premier Li Keqiang announced in April the cross-border trading plan.
Investors opened the most accounts to trade mainland A shares in more than two years in the last week of September, according to official data.
SGX has been offering new equity, currency and commodity futures contracts to help counter a decline in stock transactions. That has made derivatives the bourse's biggest business, contributing 32 percent of the S$169 million ($132.66 million) revenue in the three months ended Sept 30, the company said last week. Equities contributed 29 percent of the total, down from a peak of almost 60 percent six years ago.
The bourse started trading yuan futures last week and is looking at the possibility of developing risk-management products for Chinese companies that are increasingly venturing outside of China, Syn said.
Some 1,846 contracts, with a notional value of 1.1 billion yuan ($180 million), changed hands on the first day of trading of the contract on Oct 20, according to SGX.