Move to help meet anticipated demand for Shanghai stocks after cross-border trading starts next month
The Hong Kong Monetary Authority is setting up a 10 billion yuan ($1.6 billion) repurchase facility to ensure an adequate supply of China's currency as the city's investors gain greater access to Shanghai's stock market.
HKMA will announce in coming weeks a list of banks that will act as primary liquidity providers for the yuan, Chief Executive Norman Chan said at a Treasury Markets Summit in Hong Kong. The Shanghai-Hong Kong Stock Connect program, which is scheduled to start in October, will allow a net 23.5 billion yuan of daily equity purchases between the two cities.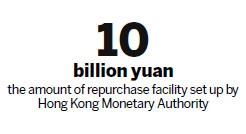 "The market consensus is there will be more flows to Shanghai at the beginning, which is going to be a net withdrawal from Hong Kong's yuan liquidity to the onshore market," said Crystal Zhao, a Hong Kong-based analyst at HSBC Holdings Plc. "If you have the intraday repo of 10 billion yuan, it will definitely help smooth intraday money-market volatility."
The benchmark Shanghai Composite Index has dropped 23 percent in the past five years, compared with an 11 percent retreat in the Hang Seng China Enterprises Index of mainland companies listed in Hong Kong. The yuan has strengthened 1 percent to 6.1458 per dollar this quarter in offshore trading, data compiled by Bloomberg show.
"As the Shanghai-Hong Kong Connect may be implemented soon, the demand for yuan payments and lending could increase, so we think banks need to strengthen their liquidity management," Chan said. The purpose of the repo facility is to promote more efficient renminbi payments between banks, he said, using the official name for the yuan.
Bank of China (Hong Kong) Ltd, the city's yuan clearing bank, may expand the list of collateral it accepts for its intraday repurchase facility for loans in the currency, head of investment Chordio Chan said at the same conference.
HKMA and the banks it selects as primary providers of yuan repos will lend funds for intraday or overnight use, Chan said. The authority's 10 billion yuan repo facility will be on top of any that Bank of China (Hong Kong) is offering, he added.
Hong Kong officials are also seeking the removal of a 20,000 yuan daily currency-conversion limit that applies to the city's permanent residents and have discussed this with the People's Bank of China, HKMA's Chan said.
"The PBOC says it doesn't see any problems with removing the quota," he said. "We are seeking to get this arrangement implemented before the start of the Shanghai-Hong Kong Connect."
The conversion cap is a hindrance as Hong Kong faces competition from London and Singapore, which are seeking a greater role in offshore yuan trading. China appointed clearing banks in the UK capital, Seoul and Frankfurt this year and assigned Renminbi Qualified Foreign Institutional Investor quotas to places beyond Hong Kong. The quotas allow yuan raised offshore to be used to buy securities in China's domestic market.