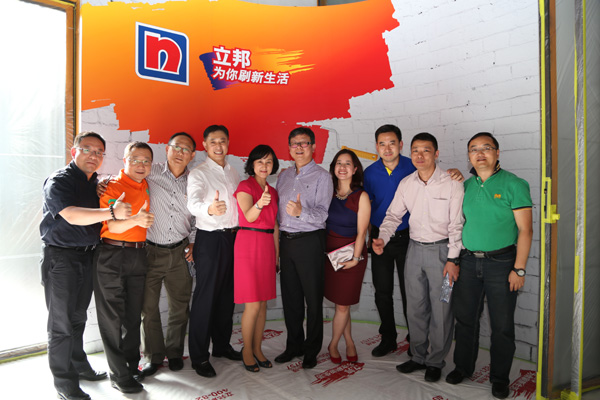 Nippon Paint China President Eric Chung (R5) and his team launched the Nippon Paint China brand upgrade campaign, at a press conference in Beijing, on Sept 3, 2014. [Provided to China Daily]
Nippon Paint China is trying to change into a comprehensive paint services provider from simply a traditional paint products supplier, in a bid to meet the ever-evolving needs of customers.
The global paint leader officially announced its brand upgrade at a press conference in Beijing, on Sept 3, showing that it will expand business operating range and tap into the paint service area, in line with its logo "More Than Paint".
"As customer demand has been growing, Nippon Paint China found it hard to satisfy its customers who need more diverse services in addition to advanced technology and diversified paint products," said Eric Chung, president of Nippon Paint China, adding that the company needs to adopt a new service-oriented approach to meet customer expectations and stay competitive in the market.
The brand upgrade program, which includes new brand recognition, an entire range of coatings system and a complete product system, a new home-painting service, and better corporate social responsibility, is launched to help the company turn into a comprehensive service provider with promoted technology innovation and expanded broad range of diverse products. More important, it wants to provide Chinese customers with more color choices, better texture and brushing effects and environmental protection.
"What we want is to focus on the demand of customers, meet that customer demand, and even more, create customer demand. That is what matters most for the brand," said Chung.
With that in mind, Nippon Paint China is promoting a "home-painting" service, based on its diversified eco-friendly paint products, with professional accessories and tools.
The professional painting service boasts "painting for love" and looks to help its clients enjoy a new and beautiful life in a more adorable indoor living environment through quality painting.
To understand customer needs directly, the company has launched an "iColor" website, which bridges customers and designers to work out specific painting schemes to meet individual decoration needs.
The company started with the cities of Shanghai, Hangzhou, Beijing, Guangzhou and Shenzhen, and now has professional painting services in 38 cities across China. It has provided its quality service experience for more than 30,000 families, since 2011.
In addition, Nippon Paint China has also used this opportunity to improve services for professional customers involved with architecture. It is focused on satisfying the demand of clients, for example real estate developers, to give them results for various surfaces, from cement to metal to timber surfaces, with advanced coating solutions and comprehensive customer service.