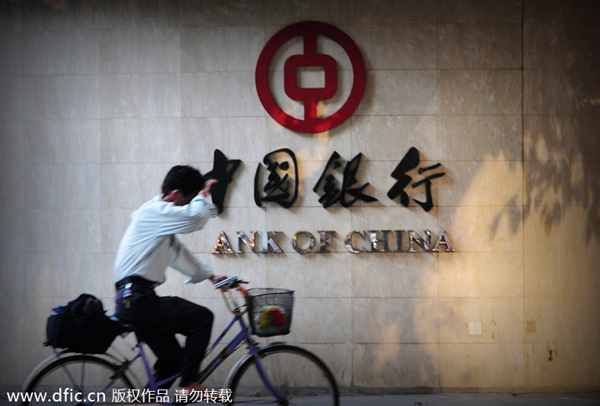 man rides in front of a Bank of China branch in Fuzhou, Fujian province, July 10, 2013. [Photo/IC]
PARIS - Bank of China (BOC) on Monday announced the first offshore yuan-denominated bond listing by the bank on Euronext, the eurozone's primary exchange.
Called "the Arc de Triomphe Bond," the bond was admitted to be listed on Euronext through a public placement comprising two tranches of 1.5 billion yuan at an interest rate of 3.35 percent reaching maturity in 2016 and 0.5 billion yuan at 3.85 percent reaching maturity in 2019, the BOC said in a statement.
Subscribed more than three times, the bond's total subscription value hit 7.3 billion yuan with European investors representing 34 percent of the total number of interested business leaders.
The listing success "is a symbol of yuan internationalization with a more solid basis on the European continent, and it is also a reflection of great attention and recognition of yuan from the global financial market," said Tian Guoli, chairman of BOC.
The BOC also announced a memorandum of understanding (MOU) with Euronext "to develop comprehensive strategic relationships between the two companies."
The fresh deal will help Paris become an offshore yuan business center and pave the way for Chinese enterprises to come to Europe for finance, investment and commodities trading, the statement added.
"We are delighted that BOC chose to list their yuan-denominated bond in Paris, highlighting its willingness to develop the offshore yuan market on Euronext's markets and underscoring our position as a leading financing center attracting high quality companies from across the world," said Anthony Attia, CEO of EuronextParis.
BOC is China's most international and diversified bank with a unique extensive yuan clearing network and a global payment system.