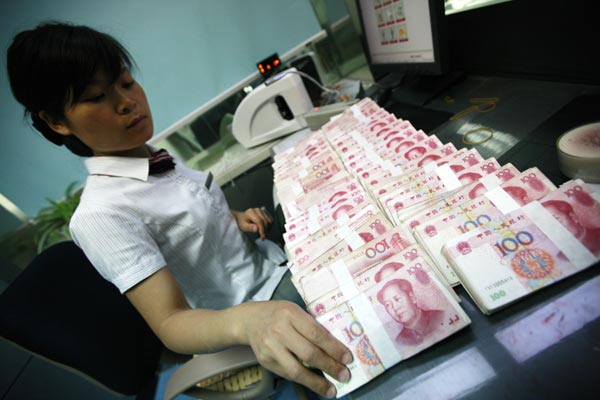 An employee counts yuan notes at a branch of Industrial and Commercial Bank of China Ltd in Wuxi, Jiangsu province. New yuan loan growth dropped in August due to weak demand. Xie Zhengyi / China Daily
Weak demand seen for financing as realty investments lose sheen
New yuan loan growth dropped sharply in China from a year ago in August, indicating weak demand for financing amid slowing investment in the infrastructure and property markets, the central bank said on Friday.
According to statistics released by the People's Bank of China, new yuan loans were 702.5 billion yuan ($115 billion) in August, down 10.3 billion yuan from a year ago. During the same period, aggregate financing fell to 957.4 billion yuan from 1.58 trillion yuan.
M2, a broad measure of money supply, rose by 12.8 percent in August, hitting the lowest growth rate since April.
The credit slowdown was in accordance with the slowdown of growth in power generation and industrial added value in recent months. It suggested that financing demand had weakened in the industrial manufacturing sector and such a trend would continue for a while because the growth of investment in fixed assets and real estate also slowed, said Lian Ping, chief economist of the Bank of Communications Co Ltd.
Due to an increasing pressure from the downturn of asset quality and housing prices, banks tightened lending to sectors that have potentially high financial risks. That was also part of the reason for the drop in bank loans, Lian said.
The slowdown in M2 growth was mainly caused by three factors, he said. First, social credit expansion was moderating further. Second, channels for direct investment kept increasing. And third, companies were more willing to use financial companies rather than banks for fund management, and individual clients turned to monetary funds for wealth management.
Data from the central bank showed that new yuan deposits fell to 108 billion yuan in August, down 699.5 billion yuan year-on-year, which Lian considered a major cause for the slowdown in M2 growth.
"Although the M2 growth fell sharply in the short term, it will be generally in agreement with the trend of the Chinese economic growth and will hopefully reach 13.5 percent for the whole year," he said.
Sheng Songcheng, head of the statistics and analysis department of the central bank, said: "The M2 growth still remained in a normal range in spite of the slip in August."
Sheng said the M2 growth was compatible with other macroeconomic indicators. It was 3.4 percentage points higher than the sum of CPI growth (2 percent) in August and GDP growth (7.4 percent) in the first half of 2014. Judging from the history, M2 growth is the most proper when it is about 2 percentage points higher than the GDP and CPI growth combined.
"I expect money supply to maintain stable growth and M2 growth to reach the target of 13 percent for the whole year," Sheng said.
He urged investors to pay more attention to the overall trend of major financial indicators rather than short-term statistical fluctuations in a single month.
Wen Bin, principal researcher at China Minsheng Banking Corp Ltd, said although the M2 growth slowed down, liquidity still remained stable.
The country's weighted average interbank interest rate was 3.17 percent in August, falling 24 basis points from the previous month and 27 basis points from the previous year.
Wen said the new local currency loans of 702.5 billion yuan met the majority of market expectations that ranged from 650 billion to 750 billion yuan and could basically satisfy the companies' demand for financing.