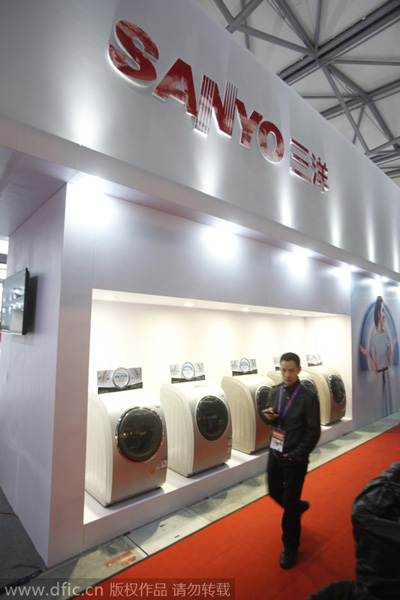 A visitor walks past Sanyo washing machines of Hefei Rongshida Sanyo Electric Co Ltd during an expo in Shanghai, March 22, 2013. [Photo/IC]
CHENGDU - US appliance-maker Whirlpool Corporation received approval from the China Securities Regulatory Commission to acquire a 51 percent stake in the Shanghai-listed Hefei Rongshida Sanyo Electric Co Ltd (Hefei Sanyo), according to a Hefei Sanyo statement released on Monday night.
It is the final approval required for the acquisition process.
The transaction will cost Whirlpool 3.382 billion yuan ($550 million), according to the statement.
China will become the world's largest white goods market and is the focus of Whirlpool's global layout. The acquisition will combine Whirlpool's technologies with Hefei Sanyo's local market expertise to grow its market share, according to the statement.
Michigan-based Whirlpool, with an annual sales revenues of more than $18 billion, entered into the Chinese market in 1994 but has lagged behind local brands like Haier.