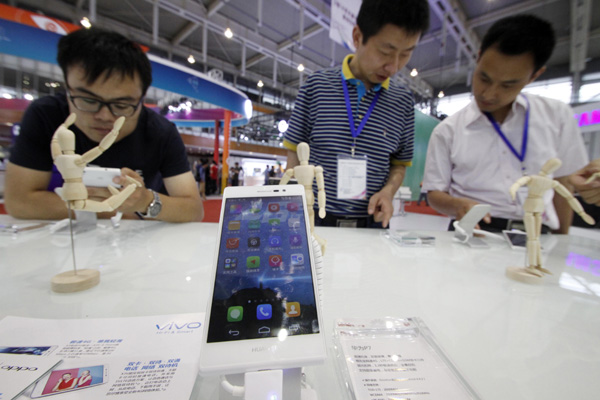 People look at the new handset during a mobile phone trade fair on June 27, 2014. [Provided to China Daily]
China's Internet watchdog is working on a guideline for smartphone applications in an attempt to maintain cyberspace order, improve industry development and protect users.
It is the time to accelerate Internet-related legislation and bring the rule of law into play to regulate Web space, Lu Wei, director of the Cyberspace Administration of China, said during a seminar over the weekend.
The idea for a guideline echoed the Fourth Plenary Session of the 18th Central Committee of the Communist Party of China, whose theme was the rule of law. The plenum concluded in Beijing on Thursday.
The guideline aims to put the development of smartphone applications under a set of rules to avoid having a few bad programs steal users' privacy and damage mobile security, according to the administration.
Tong Liqiang, director of the authority's Beijing branch, said at the seminar that it is studying a series of rules about the Internet, including a guideline on apps and an interpretation for instant messaging tools.
Tong also spoke of building a committee of legal experts and improve mediation for websites.
Zhu Wei, deputy director of the Institute of Cyber Law at the Research Center for Civil Law at Renmin University of China, approved of the prospect of a guideline, saying that some apps have defects, and the supervision of the industry is far from adequate.
"It's timely and necessary to regulate the app industry. Some apps now have infringed mobile phone users' rights by stealing their personal information and contact lists," Zhu said.
A few app developers or inventors care more about their product design and pay more attention to how many users download their service instead of supervising the content, "which brings disorder to the industry," he said.
Some app operators earn money by purchasing users' private information, while some have little sense about the protection of intellectual property rights, he said, "so boosting the app's supervision, especially the news and online transaction ones, is a must".
"I don't think the guideline will restrict the development of apps. Instead, it will push the survival of the fittest, ensuring a healthier industry," he said.
A heated discussion ensued at the weekend seminar involving about 100 participants - Internet specialists, legal experts, Web company representatives, officials and netizens. They shared their opinions about how to develop cyberspace under a legal framework.
Ren Xianliang, deputy director of the administration, said the landmark meeting of the Party's top officials last week pushed forward the question of law in cyberspace development, adding that each branch of the authority should guide netizens and help build the industry from a sound legal foundation.