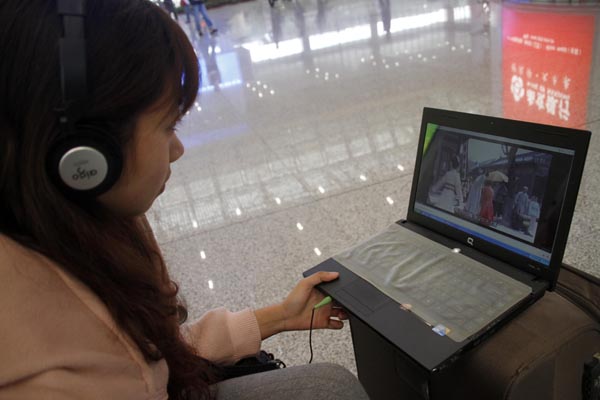 A passenger watches a movie on her notebook computer in the waiting room of a railway station in Nanjing, capital of Jiangsu province. Most of the movie promotions are expected to go mobile sooner or later. [Provided to China Daily]
Small startup is a model for future entrepreneurs in the mainland
When Alibaba Group Holding Ltd successfully raised $25 billion in its initial public offering on the New York Stock Exchange, it sent a strong signal at home - entrepreneurship pays off.
The Chinese business press immediately began to ask: Can China produce a second or third Alibaba, or even more? What is the future for entrepreneurs in the post-Alibaba era? Here's one example.
Many traditional definitions blur in the Internet age. Just as the telephone can be a medium, an electronic game can be a form of advertising, as Peng Qiang, chief executive officer of Movies &Games Interactive, pointed out.
Peng's 12-person startup introduced a mobile game app called Crazy Movies in May. But unlike other game apps, it carries many small, easy-to-play games (or "light games", as they're called in the industry) that are related to elements of movies currently playing in cinemas.
Games and movies are integrated, along with movie-related information and promotions. But of course, the game is only the form: the essence is commercial information. Players can get information about movies currently being shown and even about coming releases.
Mobile games are a big thing in China, Peng said. He said the nation's online game industry is worth 300 billion yuan ($48.8 billion) a year, and mobile games generate half of that.
The Android version of Crazy Movies was introduced in May, and the iOS version came out in July. Registered users of the app now exceed 40,000. "And we haven't run a promotional campaign yet," said Peng, a longtime advertising executive, explaining why cash flow is still not a big concern.
Games are offered free of charge for movie companies or distributors. Peng said he believes that as users multiply, business will follow, and his company will gain enough bargaining power to charge fees to those who make and distribute movies. But right now, the user base "is our most valuable asset".
The target users are the young white-collar workers who form the bulk of China's mobile game players and film audiences. Their demand for movie-related information is huge, and the games from the Crazy Movies app, many of which can be outsourced, can do a lot to link the people who make the movies and those who watch them, Peng said.
In 2013, China's box office revenue rose 27.5 percent to 21.77 billion yuan, according to the State Administration of Press, Publication, Radio, Film and Television. Domestic films accounted for almost 58.7 percent of the market, up from 54.3 percent a year earlier.
But to an increasing extent, a movie's success or failure depends on how well it is promoted. To attract young and highly active moviegoers, "sooner or later, most movie promotion will have to go mobile," Peng said.
His company has a lean team of only 12, and half of them are game developers. "Twenty to 30 employees would suffice for now," said Peng.
When the company is able to get paid by studios for developing games for new releases, Crazy Movies can grow into a large open platform for all movie-related games.
Peng recently completed his first round of venture capital financing, which was about 1 million yuan, and he is eager to expand by cutting as many deals with movie companies as possible.
"We're already being approached by movie companies for their future releases," he said.