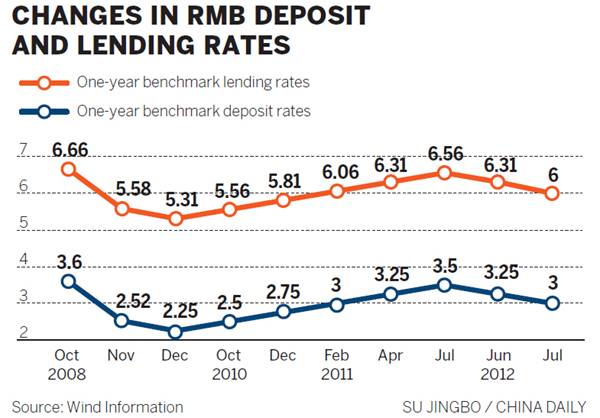 The cost of locking in Chinese borrowing costs is poised to drop below the central bank's savings benchmark for the first time since 2012 as speculation mounts that interest rates will be cut.
China's one-year interest-rate swap dropped for a sixth day on Monday in the longest losing streak in six months on speculation the central bank will add more funds to the financial system.
The cost of one-year swaps, the fixed payment to receive the floating seven-day repurchase rate, had fallen to 3.025 percent by 4 pm in Shanghai, data compiled by Bloomberg showed. It was the longest run of declines since April, and the rate earlier touched 3.02 percent, the lowest level since September 2012.
Asia's largest economy is forecast to report third-quarter growth of 7.2 percent this week, the least since 2009, after data for September showed overall financing missed estimates and inflation eased to its slowest rate since 2010.
While the central bank lowered the rate on 14-day repurchase agreements last week, a cut in the benchmark is the most direct way to shrink financing costs, the China Securities Journal said in a commentary on Thursday. Credit Agricole CIB said there's a 40 percent likelihood of a reduction.
"The chances are significant because you have a simultaneous growth slowdown and a decline in inflation, which opens the door for policymakers to address slower growth," said Dariusz Kowalczyk, a strategist at Credit Agricole in Hong Kong.
China's benchmark one-year lending rate has been 6 percent since July 2012, when it was cut for a second time that year. The central bank allowed commercial lenders the freedom to set their own loan costs last year, while the deposit rate remains capped at 1.1 times the People's Bank of China's 3 percent targeted level.
Aggregate financing came in at 1.05 trillion yuan ($171 billion) last month, missing the 1.15 trillion yuan median estimate in a Bloomberg survey and below last year's monthly average of 1.44 trillion yuan. Data last week showed consumer prices climbed 1.6 percent in September, the slowest pace in 4 and a half years.
The PBOC cut the interest rate on 14-day repo contracts to 3.4 percent last week, compared with 3.5 percent on Oct 9 and 3.7 percent on Sept 16. The seven-day repurchase rate averaged 3.05 percent this month, the lowest since May 2012.
"It looks like the market has priced in a rate cut or some more policy easing," said Hua Changchun, an economist at Nomura Holdings Plc in Hong Kong. "It looks like the intention of policymakers is to have lower interbank rates at this stage. If that doesn't work, it could be followed by targeted rate cuts or possibly a broader rate cut."