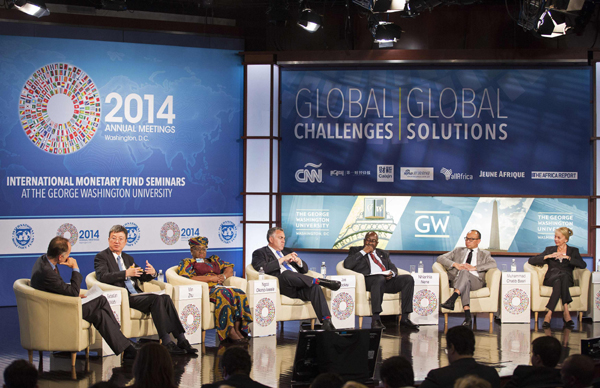 Zhu Min (second from left), deputy managing director of the International Monetary Fund, speaks during a discussion during the World Bank/IMF Annual Meeting in Washington last Wednesday. [Photo/Agencies]
China's steady, stable approach is the proper course, according to Zhu Min
Despite concerns about slowing global economic growth, officials from several international financial organizations have expressed optimism about China's economy.
Zhu Min, deputy managing director of the International Monetary Fund, said people attending the 2014 annual meetings of the IMF/World Bank Group held in Washington over the weekend described China's slower economic growth as a "welcome" event.
"It is a good thing, and it will ensure steadier growth of the Chinese economy in the future," Zhu told a group of Chinese journalists on Sunday.
The IMF has forecast the Chinese economy will grow 7.4 percent this year and 7.1 percent next year. Although that is higher than the IMF's forecast for global economic growth of about 3.3 percent, it is low compared with China's often double-digit growth over the past 30 years. China's GDP grew 7.7 percent in 2013, which was the lowest rate since 1999.
World Bank President Jim Yong Kim noted on Thursday that many people find it hard to deal with China's lower growth rates. "But we feel that (China's leaders are) doing it with tremendous awareness of what they're trying to accomplish."
China has pledged to transform its economic growth model to be less driven by exports and investment and more by domestic consumption and moving up the supply chain. A slowdown is to be expected during the process.
Zhu, who was a senior official at several Chinese banks before joining the IMF in 2010 as the inaugural special adviser to the managing director, blamed China's slowdown on policies that tightened lending, as well as on shadow banking and local government debt.
"The reduction of liquidity will slow down economic growth," Zhu said.
Shadow banking in China now accounts for 25 to 35 percent of GDP, the fifth-largest rate in the world, IMF Managing Director Christine Lagarde said last week.
Zhu also attributed the slowdown to high property prices and excessive stock that inhibit real estate investment. As a result, GDP growth will probably drop by 1 percentage point this year and continue to affect economic growth next year, according to Zhu.
He said that attendees at the annual meetings believe China's efforts over the past 18 months curbing local government debt and shadow banking and improving oversight have begun to bear fruit.
"Basically, people are no longer talking about the eruption of China's debt crisis as they did 12 months ago," Zhu said. But high debt and shadow banking are still big concerns, and more efforts are needed on those fronts, he said.
But Zhu said "targeted stimulus" programs of railways, new products and infrastructure have made progress.