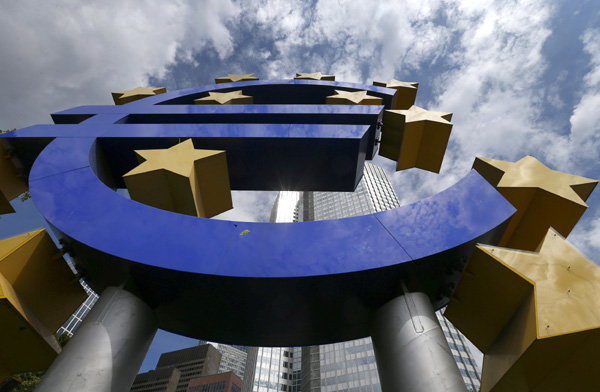 A euro logo next to the headquarters of the European Central Bank. Policymakers welcomed plans by the bank to consider adding the yuan to its foreign-currency reserves. [Photo/Agencies]
Policymakers from Beijing to Kuala Lumpur welcomed plans by the European Central Bank to consider adding the yuan to its foreign-currency reserves.
The internationalization of China's currency emerged as a subject at the annual meeting of finance ministers and central bank governors in Washington after Bloomberg News reported that the ECB will discuss whether to begin laying the groundwork to buy yuan. Such a measure would mark a major step for the importance of the currency, also known as the renminbi.
Asked about the ECB's plans, People's Bank of China Governor Zhou Xiaochuan said: "It is good that more countries are willing to adopt the yuan as a reserve currency as our economy grows. Of course it means some homework to do for us, including to reduce administrative control on our financial market and make it more market-oriented, and to gradually make the yuan a convertible currency."
While China is the world's second-largest national economy, the yuan currently is not ranked among the most-held foreign reserve assets, according to data from the International Monetary Fund.
The US dollar leads with 61 percent of holdings.
Should ECB officials eventually decide to buy the currency, initial purchases would be small and might start in a year at the earliest, said a person who asked not to be named because the discussions aren't public.
The central bank's 24-member Governing Council will consider the move when gathering in Frankfurt for their mid-month meeting on Wednesday.
Malaysian central bank governor Zeti Akhtar Aziz said on Saturday in Washington that the yuan has been part of its reserves since 2009, adding that the ECB's considerations are a "positive development".
The ECB's push comes against a backdrop of global central bank diplomacy to ease the way for China's currency, after a series of swap agreements on emergency liquidity.
Officials will review the IMF's basket of so-called Special Drawing Rights, which does not currently include the yuan, by 2015, according to the fund's website.
China hopes its currency can join, Li Bo, head of the People's Bank of China's second monetary policy department, said in Hong Kong in March. The basket currently includes the dollar, euro, pound and yen.
"It makes sense to talk about preparing for a greater international role of the renminbi given that China is our third-largest trading partner," ECB President Mario Draghi said on Saturday at a press conference.