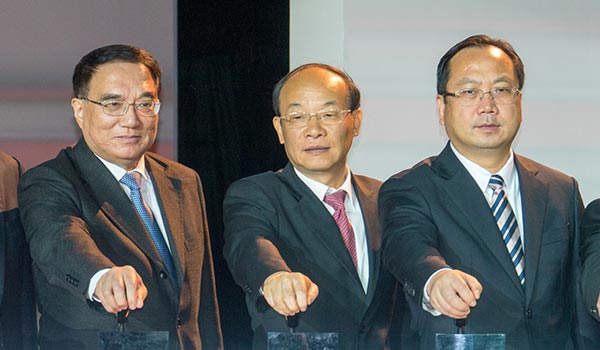 Dongfeng Motor Co Chairman Xu Ping (center) and senior executives help start Dongfeng Nissan Passenger Vehicle Co's new Dalian plant at the opening ceremony in Dalian, Liaoning province, Oct 18, 2014. [Hao Yan / chinadaily.com.cn]
After a 28-month preparation, Dongfeng Nissan got its Dalian plant in Liaoning province start producing this month and its first product - Nissan 2014 X-Trail SUV – rolled out on Friday.
Dongfeng Nissan Passenger Vehicle Co's new plant covers an area of 1.3 million square meters, and is now manufacturing one model, the Nissan 2014 X-Trail SUV.
The joint venture invested five billion yuan in the plant"s first phase that has a production capacity of 150,000 units, according to the company.
At the opening ceremony, Dongfeng Nissan General Manager Zhu Fushou said: "Dongfeng Nissan's new Dalian plant has a critical strategic aim to optimize the distribution structure and consolidate the northern market."
The carmaker now has five local plants in Chinese mainland: Northeast China's Dalian plant, Central China's Xiangyang plant in Hubei province and Zhengzhou plant in Henan province, and two plants in Huadu, southern Guangdong province.
Dalian's deputy major Liu Yan said: "We are fully confident that the Phase I of the Dongfeng Nissan plant will successfully meet the production target. After the ceremony, we will bring to table the detailed Phase II plan for discussion."
After completion of the second phase, the plant's productivity will expand to 300,000 units, according to Dongfeng Nissan Deputy General Manager Ren Yong.
"The entire plant, including the Phase II, will create about 3,000 local jobs, and the suppliers may leverage about five times that figure," said Wang Jinning, divisional general manager of PV Manufacturing Division at Dongfeng Nissan.
The first phase of the plant now has 1,350 staff members, and the number is set to grow to 1,646 according to the plan.
The plant also has a test track that is spread on 52,000 sq m area and has a straight-line distance as long as 900 meters. The test track, with 16 types of road surface, is capable of testing all the driving dynamic performance, and is regarded as "Renault-Nissan's A1 test track."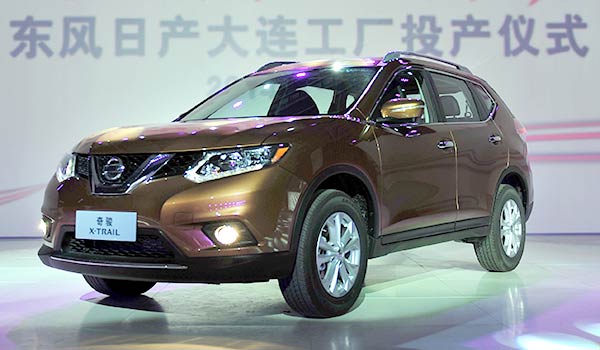 Dongfeng Nissan Vehicle Co Dalian plant's first car Nissan X-Trail SUV rolls out at the opening ceremony in Dalian, Liaoning province, Oct 18, 2014. [Photo provided to chinadaily.com.cn]