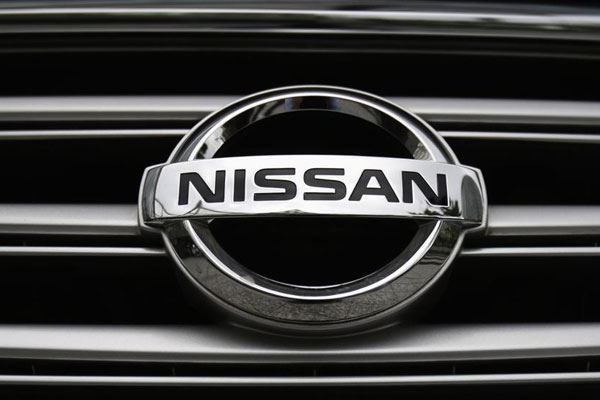 The logo of Nissan Motor Co is pictured on a vehicle at the company's showroom in Yokohama, south of Tokyo, May 12, 2014. [Photo/Agencies]
Nissan Motor Co, maker of the Leaf electric vehicle, said it hopes to garner 20 percent of electric vehicle sales in China as the central government steps up efforts to cut auto emissions and reduce air pollution.
EV sales in the world's second-largest economy may reach 400,000 vehicles a year by 2018, and Nissan expects to win about a fifth of the market, according to Jun Seki, head of Nissan's China business. Actual demand will depend on the price of the cars, the extent of consumer anxiety about their range and ease of access to charging stations, he said.
China's central and local governments have extended subsidies, exempted EVs from license plate restrictions and pledged to expand the network of charging stations to encourage their adoption. Vice-Premier Ma Kai said last month that buyers of
electric car
s may be exempted from purchase taxes as part of expanded state measures to bolster their sales.
"China is serious about pushing the adoption of new-energy vehicles, and no other country can compare with the subsidies that it's giving out," Seki said Tuesday at company headquarters in Yokohama, Japan. "The charging infrastructure will improve as sales volumes rise."
To cater to the expected demand for EVs, Nissan will begin selling its first electric model - the e30 - under its China-only Venucia brand this year.
Nissan is working with the Chinese cities of Dalian, Guangzhou and Xiangyang on pilot programs to promote the Venucia electric car, Seki said. The company's Leaf model remains the world's best-selling electric car, with cumulative sales exceeding 100,000 units as of January. Last year, deliveries increased 76 percent to 47,547 units, after the company cut prices and extended the car's battery range.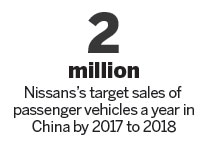 Nissan is targeting sales of 2 million passenger vehicles a year in China by 2017 to 2018, according to Seki. The company has said it expects deliveries in the country to climb to 1.43 million units this fiscal year, helped by its X-Trail SUV, Teana sedan and low-cost cars under the Venucia brand.
The company will start production this year at a new plant in Dalian in northeast China. The factory will have an initial annual production capacity of 150,000 units, which can be expanded to 300,000 units.