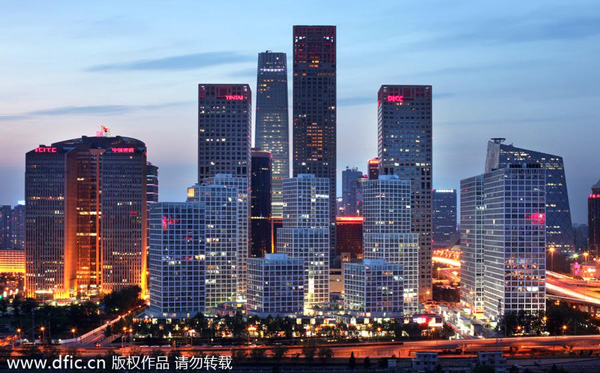 Night view of skyscrapers and high-rise buildings of Jianwai Soho and Yintai Centre in CBD in Beijing. [Photo/IC]
A new business district is been launched in the west of Beijing, offering a huge supply of fresh office and commercial space at highly competitive prices, which its developers hope will become the next most important business hub after the capital's Financial Street and Central Business District.
Financial Street Chang'an Center, to be located within a vast industrial site previously occupied by State-owned steel giant Shougang Group, is 18.5 kilometers west of Tiananmen Square.
It sits on the capital's west-east artery, Chang'an Avenue, which runs through the city's Central Business District. Covering a gross floor area of 380,000 square meters, the center will house office buildings, hotels and shopping centers.
The government of Shijingshan—which controls the site—has partnered with State-owned Financial Street Holdings Co Ltd to develop the area, but they did not disclose the specific investment amount.
Financial Street Holdings developed Beijing's Financial Street, often dubbed China's Wall Street, which is home to the country's top finance regulators and more than 1,600 institutions which collectively are claimed to control half of the country's financial assets.
The area commands some of China's most expensive rents and boasts a vacancy rate of around 1 percent, the lowest in Beijing and of any major Chinese CBD.
In recent years, Financial Street has replicated the model in other markets too, such as in Tianjing, Shanghai, Guangzhou and Chongqing.
With the help of Financial Street Holdings, Shijingshan district government said it hopes Chang'an Center will become part of a wider plan to create a vast business hub based on the old Shougang site, to be called Chang'an Avenue New Business District.
The greater area will cover 8.6 square kilometers, which the developers hope will also become a magnet for Internet companies, culture and entertainment companies, as well as finance houses.
There are already similar development ideas being considered by other Beijing submarkets, such as Liangmaqiao, Wangjing and Yizhuang, but none are anything like the scale of the Chang'an Avenue site which is likely to offer around 11 million sq m of gross floor area. By comparison, Wangjing CBD offers 1.3 million sq m.
Chen Guoqiang, head of China Real Estate Society, said traditionally Beijing's office and commercial buildings concentrated in the east of the city, where rent is much higher, so the launch of the Chang'an Avenue New Business District promised to create a new growth engine on the other side of Beijing.
Strong demand and shortage of available land is making Beijing the hottest commercial real estate market in China.
According to Cushman & Wakefield, the global commercial real estate services firm, average Grade-A rental increased to 382.5 yuan per sq m per month in the third quarter in the city's five key submarkets, up 0.51 percent quarter-on-quarter, and 0.38 percent year-on-year. The vacancy rate for Grade-A offices across Beijing remained relatively low at 4.45 percent, down from 8.19 percent in the fourth quarter of 2013.