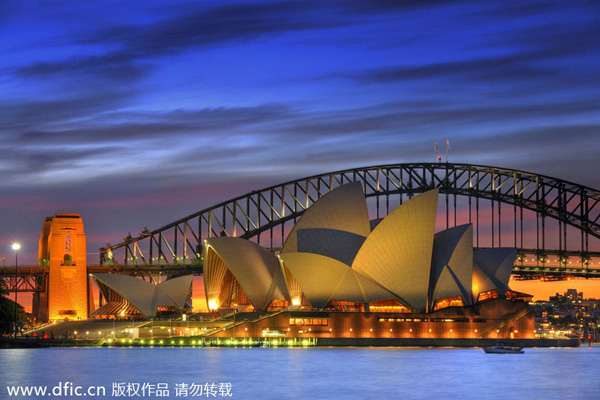 Photo shows Sydney Opera House in Australia. [Photo/IC]
Billionaire Harry Triguboff, the Australian property developer and Australia's fourth-richest man, is in talks with a Chinese company to sell Australia's biggest homebuilder, which he founded more than 50 years ago.
"It's of great interest for me to sell Meriton Pty", Triguboff, 81, said in an interview in Sydney, adding that he last met with the interested Chinese buyer last week, although he declined to identify the company.
"I showed them my valuation, they're looking at their valuation; that's what we're doing now."
Asian developers including Greenland Holding Group Co and Singapore-based Frasers Centrepoint Ltd are seeking to tap into a 12 percent surge in Sydney apartment prices. Meriton has capitalized on the price gain by buying A$1 billion ($880 million) of land since January 2013.
The closely held Sydney company has had its busiest year on record, starting work on more than triple the number of dwellings in the 12 months through June from the previous year, according to spokeswoman Lisa Thomas.
Triguboff, who was born in Dalian, China, and grew up in the Russian community of Tianjin, is worth $5.3 billion, according to the Bloomberg Billionaires Index.
He said he is talking with only one potential buyer, and will sell only if the Chinese acquirer is willing to take over all of the company.
Shares of Chinese developers have been among the worst performers in Asia this year as slowing home sales on the mainland and rising debt have sapped investor confidence, Bloomberg Industries analyst Robert Fong said.
Greenland, China Vanke Co and Xinyuan Real Estate Co are among Chinese developers venturing overseas as the mainland housing market falters and the government eases restrictions on foreign investments by domestic companies. They are also following local buyers who are migrating.
Meriton sells about 15 percent of its apartments to Chinese buyers, according to company figures.
The developer owns enough land to build about 15,000 apartments, up from a traditional pipeline of about 8,000, company figures show. More than 2,000 of those will be built by the end of 2014.
Meriton, which has A$275 million of debt, started work on 7,929 dwellings in the year through June, up from 2,573 in the previous 12 months, according to company figures. It owns or manages about 2,200 units as long-term accommodation, and rents out 3,200 serviced apartments, according to the company.
Triguboff last year said pension funds from Canada and the UK as well as Chinese investors had approached him through bankers to buy all or part of Meriton.