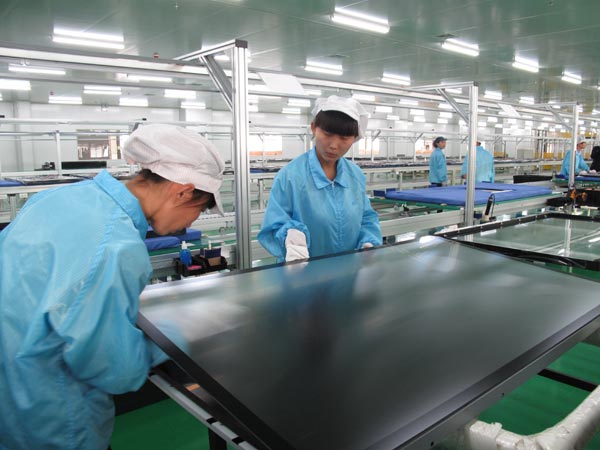 Workers inspect touchscreen in Ruihua Electronic, Oct 28, 2014. [Photo/Dai Tian]
Chalk tray may finally be out of sight as a Shangdong-based company put into production its latest smartscreen design, through which even calligraphy can be demonstrated by simple touch.
Ruihua Electronic Technology Company has produced about 2,000 touchscreens targeted at schools in need of a more convenient and visible way of demonstration to students since August, said Wang Songxin, factory director, on Monday.
The electromagnetic infrared dual-touch board, ranging from 47 to 84 inches in size, can run Windows as well as Android operating system and are equipped with teaching software.
"We developed the electromagnetic touch solutions independently and has received patent right. Handwritings on the smartscreen are natural, same with those on the blackboard," said Wang.
Chinese education authority decided in 2011 to include calligraphy into the syllabus nationwide, despite the fact that the number of licensed calligraphy teachers is only about 2,000.
"To help students with calligraphy is the reason why Ruihua has developed the software," said Wang.
He added that there are about 400 million children in China studying at primary and middle schools and those in less developed areas lack laboratories and teachers, therefore they need the smartscreens for visualization more than others.
Founded in October last year, the company in Liaocheng, city of Shangdong province, takes up about 20,000 square meters, with annual output capacity expected to reach 1.3 million.
"Shangdong province produces aluminum, which is one of the major raw materials of smartscreens. Labor cost and electricity cost is relatively low," said Wang.
The first several batches of smart boards have been sold to schools in Shangdong, Henan, Jilin, Guangxi and Anhui province.