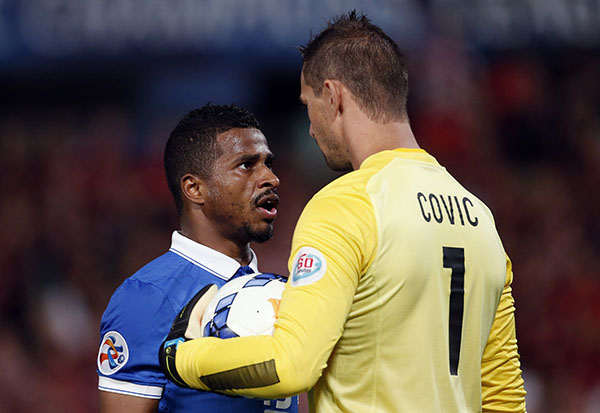 Western Sydney Wanderers goalkeeper Ante Covic (R) reacts as Nassir Alshamrani of Saudi Arabia's Al-Hilal looks at him during their Asian Champions League final first-leg soccer match at Parramatta Stadium in Sydney October 25, 2014. [Photo/Agencies]
SYDNEY - The Western Sydney Wanderers will be prepared for anything when they arrive in Riyadh on Wednesday after beating Saudi's Al-Hilal 1-0 in Sydney in the first leg of the Asian Champions League final on Saturday.
Sydney defender Matthew Spiranovic says his teammates are expecting a hostile reception in the lead-up to Saturday's second- leg clash, similar to the welcome they received when they played Guangzhou Evergrande in China.
In Guangzhou on the night before the game the players were disturbed in their hotel rooms by continuous phone calls and phantom door knocks and one fanatical Chinese fan tried to run the team bus off the road.
Spiranovic, who spent a year in the Middle East with Qatari club Al-Arabi, knows first hand how passionate Saudi fans can be.
"I think it might be something similar to the game against Guangzhou. It'll be a hostile crowd and they will bring out all the tricks to try and put us off our game," he told Fairfax Media.
"But I think the boys are aware of that, we know what to expect. We just have to focus on ourselves, not play into their hands and I'm confident we'll be able to do that.
"We've gained so much experience from playing in this competition and have performed in some very tough away games in some very hostile environments. I think we've shown we can handle whatever they throw at us."