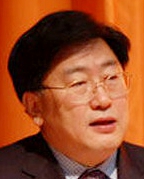 Former Liaoning official Chen Tiexin
A former top political adviser in Liaoning province was placed under investigation on graft charges, China's top anticorruption watchdog said on Tuesday.
The Communist Party of China Central Commission for Discipline Inspection said in a statement that Chen Tiexin, vice chairman of the Liaoning provincial committee of the Chinese People's Political Consultative Conference, is suspected of "seriously violating Party discipline and breaking the law" — a phrase the commission often uses to refer to corruption.
Investigations found that Chen took advantage of his post to seek profits for others, accepted "a huge amount in bribes" and committed adultery.
Currently detained by China's top procuratorate, Chen is the first ministerial level official in Liaoning to be investigated since the nationwide antigraft campaign began in late 2012. He has been expelled from the Communist Party of China and dismissed from public office.
Liaoning was hit by corruption scandals in 2001 when three senior officials in the provincial capital, Shenyang, were sentenced to prison for spending illicit money in a casino in Macao, and more than 100 officials in the province were found guilty of taking bribes. One ministeriallevel official and four bureaulevel officials were imprisoned.
Chen, 59, a Liaoning native, began his work in a local factory and started his career in public service as the secretary of the Youth League in Shenyang. He held positions in different economic and trade promotion sectors, and served as Party chief in several cities over the past 26 years until he was appointed senior political adviser in 2013.
Chen's corruption case is thought to involve real estate development in Chaoyang during his tenure as the city's Party chief from 2008 to 2013, a city official said on the condition of anonymity.
Chen was alleged to have sold 200,000 squaremeters of land in Chaoyang at a reduced price to a real estate developer surnamed Shi, who was placed under investigation in July.
Chen also is suspected of having given 2 million square meters of land to real estate developer Liu Shuai, who had been regarded as the most unlikely winner in the land bidding. Chen's predecessor as Chaoyang's Party chief, Song Yong, was sentenced to death with a twoyear reprieve in 2011 for taking bribes of 10 million yuan and misuse of power in distributing land to developers.
According to the city's government work report in 2013, Chaoyang completed a 52.5 billion yuan ($8.6 billion) investment in infrastructure construction and environmental transformation from 2008 to 2013 through land sales and urban construction investment bonds — double that of the previous five years.
Chen served as deputy head of the Shenyang tourist office in 1996 and worked hisway up to the head of the tourist department in Liaoning province in 2004.
His work in promoting tourism was described by some residents as "throwing around money without concrete results", and he was believed to have continued spending publicmoney on the tourism industry as Party chief in Chaoyang.