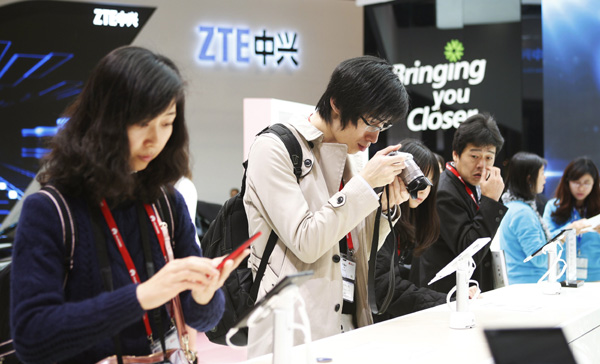 Visitors check out ZTE smartphones at the Mobile World Congress in Barcelona, Spain on Feb 24. ZTE is the second-largest device supplier in the US prepaid market. [Photo/Agencies]
Chinese telecom equipment maker ZTE Corp is set to roll out more high-end smartphones in the United States, while consolidating its share of the entry-level end of the market, a company executive said.
"The US carriers are asking us to bring more mid-and high-end devices to the market, and adding handsets with higher price tag also fits our strategy in the country," said Cheng Lixin, senior vice-president of ZTE and president of ZTE North America.
The vendor, based in Shenzhen, Guangdong province, has already signed major new sponsorship deals with three National Basketball Association teams in New York in an effort to raise its brand awareness, becoming the official smartphone provider for the Houston Rockets, New York Knicks and Golden State Warriors.
ZTE and the Rockets signed a one-year sponsorship last year and its brand awareness jumped from 1 percent in 2013 to 16 percent in Houston area, said officials.
Rockets CEO Ted Brown said the ZTE deal will also help his team hold onto its popularity in China after its Shanghai-born superstar Yao Ming retired in 2011.
"ZTE's branding initiative will help us build awareness in China and other Asian nations where ZTE is selling its devices," said Brown. "We share the same goals as ZTE."
The price of the new deals was not disclosed, but the company said it had tripled marketing investment in NBA.
Gene Cao, senior analyst at Forrester Research Inc, said the new NBA sponsorships would help ZTE enhance its brand name and acquire more US customers, especially those who were not aware of the brand.
Around 95 percent of smartphones sold in the US are through service carriers.
Cheng said carrier competition in the US is intensifying after a series of mergers.
"Every carrier is looking to build closer ties with smartphone vendors to improve their market share, providing ZTE with a golden opportunity to cash in."
He said selling more affordable premium devices will allow ZTE to challenge established market leaders such as Apple Inc and Samsung Electronics Co Ltd.
ZTE claims to be the second-largest device supplier to the US pre-paid market, with a current market share of 8 percent, which has doubled in the past year. Cheng is predicting its high-end device, the Zmax, will receive more than 1 million orders from US carriers, but experts say it will take time for ZTE to land really sizable high-end sales.
Wang Jingwen, an analyst with Canalys China, said ZTE's current market share in the US is mainly for products costing less than $100.
Wang said Chinese vendors find it difficult to build brand awareness and to sell higher-end products in developed markets such as the US and Western Europe, because most consumers there already use smartphones from companies like Apple, Samsung, LG Electronics and Sony Mobile Communications Inc.
Cao said ZTE has outperformed its Chinese peers Huawei Electronics Co Ltd and Lenovo Group Ltd in the US smartphone market because of its close relationships with carriers such as T-Mobile.
"Around 90 percent of ZTE revenues came from device sales in the US in 2013, which has prompted it to invest more marketing resources into the market," he added.