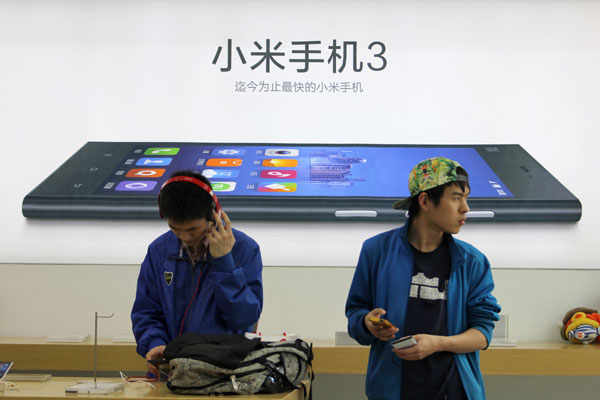 Customers try out Mi3 smartphones at a flagship store of Xiaomiin Wuhan city, Central China's Hubei province, March 30, 2014. Sun Xinming for China Daily
HANOI - Chinese brands of cell phones will dominate Vietnamese market in the near future not only because they are cheaper but also because of their excellent quality, according to a top official of a Chinese global mobile phone manufacturing firm.
According to the director, who requested anonymity, his firm is now putting in the Vietnamese market with cheap and reliable mobile phones and smart phones.
As of the first half of 2013, Lenovo almost remained the only Chinese brand in Vietnam's mobile phone market.
But even without any advertising campaign, Lenovo quietly rose to be the top brand now in the market, surpassing Korean and Western-made brands.
In October 2013, a new Chinese brand called Oppo joined the market. It is being distributed locally by Vietnam's Military Telecom Corporation (Viettel).
Oppo has increased its sales after massive promotion and marketing operation through the local media outlets.
In the first launching month, Oppo's revenues in Vietnamese market reached 30 billion Vietnamese dong (nearly $1.5 million), much higher than the expectations of distributors, according to a report in VNEconomy online newspaper on Thursday.
Despite its late arrival here, the Oppo brand has made a tremendous jump in sales through its retail outlets such as Viettel, World Mobile, FPT, and Vien Thong A, among others.
"Because of our good quality and product design, plus the right approach to customers, we have earned high revenues during the last few months," one Oppo official said.
After Oppo, Huawei, the world's third largest phone producer, started selling its smart phones in Vietnam in 2013 through its various distribution outlets.
Other Chinese names in smart phone race in Vietnam are Haier and Gionee. There are high possibilities that ZTE and Xiaomi will soon enter the Vietnamese market, said VNEconomy online newspaper.
Certainly, the Chinese brands are giving the well-known global brands such as Samsung, Apple and Nokia, a run for their money.