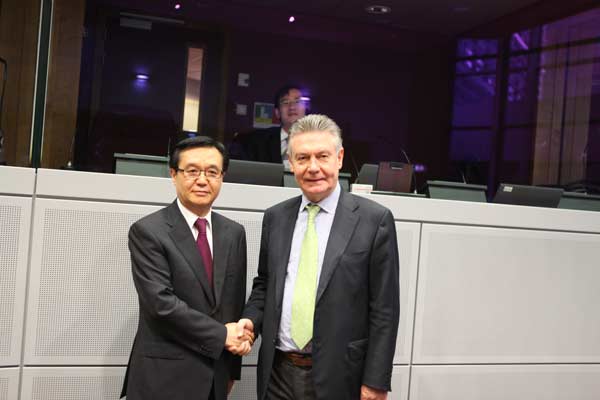 Chinese Minister of Commerce Gao Hucheng, left, and the EU Trade Commissioner Karel De Gucht at the annual meeting of trade committee of both sides on Saturday in Brussels. [Photo by Fu Jing/chinadaily.com.cn]
Brussels has made final decision on Saturday that it will not launch anti-subsidies investigation into Chinese telecommunications equipment makers Huawei Technologies Co. and ZTE Corp.
The announcement was made after EU and China has convened an annual trade committee meeting in Brussels on Saturday. But Brussels still needs to go through internal procedures for the commissioners to approve next week.
The long-awaited result come after Premier Li Keqiang held talks with top European officials in Milan, Italy, when they attended the 10th summit of European and Asian leaders on Thursday and Friday.
Brussels has warned in 2013 that it will begin investigations into imports of mobile telecommunications equipment made by Huawei and ZTE, claiming the two companies received unfair subsidies from the Chinese government.
Saturday's agreement followed the hard-won amicable consensus China and EU have reached on EU's tentative actions to launch anti-dumping and anti-subsidies investigation on China's solar panel exports to EU.
Chinese Minister of Commerce Gao Hucheng and the EU Trade Commissioner Karel De Gucht have held meeting on Saturday before they chaired the annual event. Both of them agreed to hold more talks on regular basis and deepen communication to solve rising trade disputes.
Joy Tan, chief spokesperson of Huawei welcomed the decision of both sides, saying Huawei always sticks to principle of fair competition and has won trust of its customers. "In Europe, we have striven to deepen communication with local partners and customers as always ...we firmly believe an open and competitive environment will benefit the industry but also the consumers," Tan told China Daily.
fujing@chinadaily.com.cn