The government has reiterated in a new regulation that airlines are not obliged to provide free accommodations and food to passengers if flights are delayed or canceled because of uncontrollable situations, such as bad weather.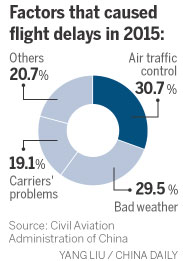 But the Ministry of Transport said the carriers should nonetheless help passengers with accommodations and food, although the expenses will have to be paid by passengers.
Civil aviation experts said reaffirmation of the rule is intended to make the public aware of the practice and reduce disputes, which are frequent during the rainy season.
More than 31 percent of all flights in China failed to fly on time last year, according to the Civil Aviation Administration of China.
Less than 20 percent of those flight delays were caused by airline companies, with the rest caused by factors such as air traffic control problems and bad weather.
The regulation, which will take effect on Jan 1, also includes new rules that require airline companies to inform passengers of a delay less than 30 minutes after it has been confirmed.
Additionally, airline companies must arrange for passengers to disembark a plane if the delay is to last more than three hours, it says.
Conflicts between passengers and carriers are common in China.
"I often see people get angry with ground staff members of airline companies during delays. Now they should know some of their demands on the airline companies are not reasonable," said Cheng Zhonghong, 30, who flew about 40 times domestically last year on business trips.
Professor Li Xiaojin at the Civil Aviation University of China said that despite the regulation, many airline companies already provide free water and food in all circumstances, out of concern for passengers.
Wang Yanan, deputy editor-in-chief of Aerospace Knowledge magazine, said that airline companies should provide free accommodations and food for passengers if airplanes land at alternative airports or after long delays caused by mechanical problems.
"Disputes, or even violence, between passengers and airline companies during delays are often caused by those who are not aware of the policy, so the ministry put it in the latest regulation to make a statement," he said.
YANG LIU/CHINA DAILY
Factors that caused flight delays in 2015