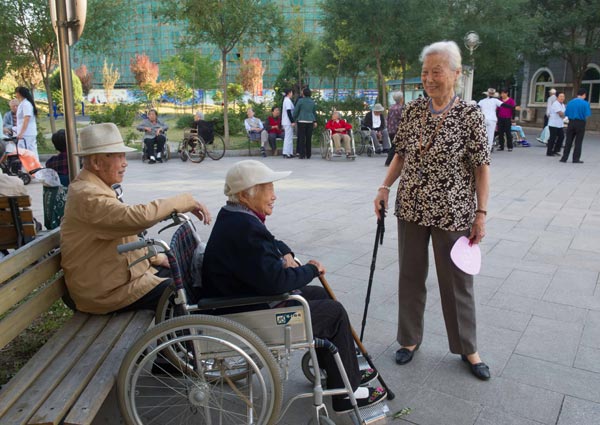 Senior citizens chat at a retirement home in Beijing. [Photo/Xinhua]
Job prospects of young unaffected but pensions will grow, experts say
China's top human resources and social security authority is working on a plan to delay retirements in response to a shrinking working-age population.
The working-age population is expected to drop to 700 million by 2050, a "sharp decline" from the estimated 830 million in 2030, said Li Zhong, spokesman of the Ministry of Human Resources and Social Security, at a news conference on Friday.
"Data released by the National Bureau of Statistics show that this population has been in decline since it peaked at 925 million in 2011," Li said, adding that the idea of revising the current retirement age and delaying retirement was floated against that backdrop.
According to Li, the government will gradually implement new retirement policies nationwide, rather than quickly applying them to all people at once.
"The revised policies will first apply to people who are supposed to be retiring at a comparatively early age under current rules, before they are extended to more people across the country," he said.
Li said the ministry was working on policy specifics, and that regulations would be open to public feedback before they are formally released and implemented.
Postponing retirement has been controversial since the idea was raised several years ago, as many people were concerned about the effects of any revised policies. Some worried that it would affect young people's job prospects, especially in a slowing economy with a younger generation in need of jobs.
Li said delayed retirement would not have an adverse effect on young people's employment, as there is an increasingly aging Chinese population. Shrinkage of the working-age population means there will be more, not fewer, job opportunities awaiting the young, he said.
"In addition, delayed retirement will be implemented mainly in some traditional sectors such as manufacturing, while young people prefer jobs in emerging industries like e-commerce, which means the two sides will not collide," Li said.
Zheng Dongliang, director of the ministry's Institute of Labor Science, said delayed retirement will be good news, as it will make full use of China's human resources.
The length of employment in China is shrinking, as people spend more years getting an education, and society loses some resources as a result, he said.
"Under such circumstances, delayed retirement means that people will have more time working, so that they can create more wealth to make a prosperous society," Zheng said. "And individuals can get a higher pension after retirement. The delayed retirement policies will benefit both sides."