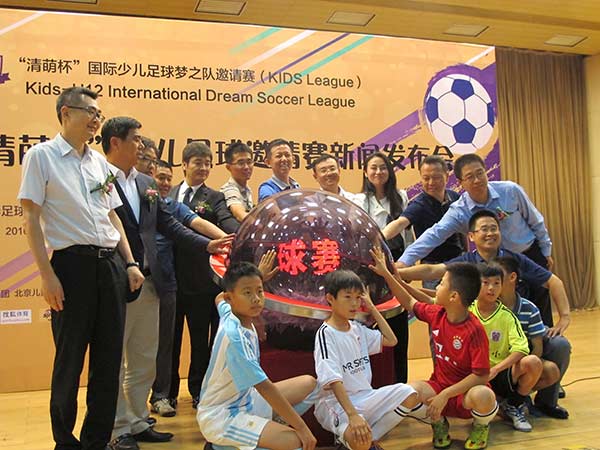 A group of Tsinghua University alumni and young Chinese soccer players attend the launch event of the U-12 International Dream Soccer League is launched in Tsinghua University Science Park, Beijing on July 14, 2016. [Photo by Wang Mengzhen/chinadaily.com.cn]
Young kids in China now have a fresh opportunity to live out the country's soccer dream. The U-12 International Dream Soccer League launched in Beijing on Thursday, thanks to a group of soccer-loving alumni from Tsinghua University.
For the very first time, talented young players from 16 teams are invited to compete in the U12 International Dream Soccer League in the West gym of Tsinghua University from Aug 20 to 28. The league also eyes an expansion nationwide by 2017, and is expected to become an international league.
Investors of the league are made up of hardcore soccer lovers from School of Economics and Management (SEM) at the world-class Tsinghua University. "The league is based on the long-existing sports spirit of Tsinghua, and it is aimed at growing a culture for school kids across China to play soccer regularly," said Wang Haitao, director of SEM alumni center.
Liu Gang, a core investor of the kids' league and CEO of Yunnan International Trust Co, hopes the new league could enable Chinese soccer teams to select more talented players using the latest technologies and big data resources. With his great passion for soccer, Liu has set up an amateur soccer club for alumni to both play games and share thoughts together.
In April, China unveiled a specific timetable for its soccer industry, requiring football development at the grass-roots level by 2020. The country is expected to establish some 20,000 soccer schools and 70,000 pitches.