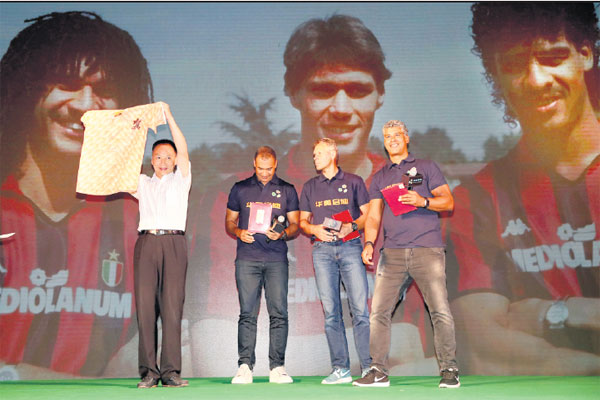 Retired stars Ruud Gullit, Marco van Basten and Frank Rijkaard of the Netherlands exchange gifts with Zhong Bingshu, principal of Capital University of Physical Education and Sports, at the launch ceremony in Beijing on Tuesday. Li Linlin / For China Daily
A legendary Dutch soccer trio who rocked the soccer world decades ago has now set their sights on helping the game's development among youth in China.
Beijing-based Huaaoqidi Youth Training Academy announced on Tuesday at its establishment ceremony that it had signed up an experienced coaching crew, including former Dutch national players Ruud Gullit, Marco van Basten and Frank Rijkaard, to offer youth training programs featuring Dutch expertise at Beijing schools.
The program was the highlight of a partnership recently inked between the academy and Beijing Campus Football Association to organize training clinics in about 200 schools in Beijing and train 1,200 physical education teachers specialized in soccer over three years.
Reflecting on his own upbringing, Van Basten said it's crucial to implant soccer education in schools.
"I think it's an easy and good combination to let them go to school to study and play together. I hope I can help Chinese soccer with my experience," said the 51-year-old.
It was the first collective appearance in China of the famed trio, who played together on the Dutch national team and Italian Serie A giant AC Milan in the 1980s and 1990s, but it won't be their last.
Shan Lie, CEO of the academy, said the Dutch coaching team will be hands-on to help create the curriculum, streamline the organization and train Chinese coaches.
"We are planning to introduce the entire youth training system from the Netherlands and combine it with the Chinese way in every detail of the system.," said Shan.
As China rolls out its national plan to develop into a world soccer power by 2050, the education authority has set a target increasing the number of schools specializing in soccer training to 50,000 by 2025.
The fast growth in numbers needs to be supported by the improvement in the quality of coaches, which has opened doors for more foreign know-how, said Wang Dengfeng, director of the PE, Health and Arts Department of the Ministry of Education.
sunxiaochen@chinadaily.com.cn