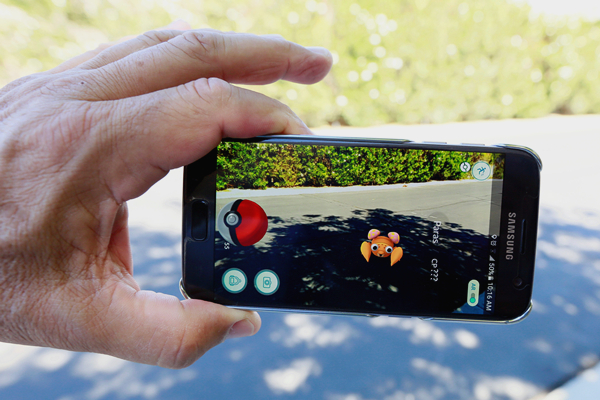 The augmented reality mobile game Pokemon Go by Nintendo is shown on a smartphone screen in this photo illustration taken in Palm Springs, California US July 11, 2016. [Photo/Agencies]
Gamers in Chinese mainland are increasingly upset over their lack of access to Pokémon Go, the latest Nintendo smash-hit game sending countless smartphone addicts worldwide outdoor to hunt down fictional creatures.
The Augmented Reality (AR) game has been launched in the US, Australia, New Zealand and Japan last week and became an instant hit.
With the help of GPS, the app shows an animated version of Google maps with Pokémon (short for pocket monster) as the users wander through the real world.
When Pokémon are within range, gamers' phones vibrate and show the Pokémon dancing around in real-time. To catch the Pokémon, you'll throw a Pokéball at the Pokémon by swiping towards it.
The Nintendo-owned franchise Pokémon exploded in popularity in the late 1990s. Its video game series has sold over 200 million copies in the last decade.
The new game, designed for smartphones and released on Thursday, has sent shares of Nintendo skyrocketing by nearly 25 percent on Monday. By Friday, it had already been downloaded more than a million times on Android and Apple devices.
At the same time, frustration is found among those potential Pokémon trainers in Chinese mainland due to lacking of access to the magical app, which encourages its users to "catch'em all".
"This is the first time that I actually want to play a game," said Jemye, a user on Sina Weibo. "I spent a long time on my phone but it doesn't work."
Another user named ZhangHanWen-Show complained, "I am waiting for the unlocking of the Chinese market. It feels everyone in the world is playing the game except me."
"I want to play Pokémon Go too! I want to catch Pikachu (a kind of Pokémon) and I really don't mind walking all over the building!" JangHoYoung cried.
"Travel agencies should consider offering Pokémon Go oversea tour package if Nintendo didn't unlock the game in China," Kongbaiyinying suggested.
Hopes for unrestricted access to Pokémon Go were further ignited Monday when users reported that the geographical block had been lifted; only to find that it had been reinstated a short time after.
Some shoppers soon found the huge potential in the void. Search "Pokémon Go" on China's biggest online retailer Taobao and you can buy Apple IDs registered in countries where the game is available, for as little as 2 yuan ($0.3).
Moreover, a Shenzhen-based company has rolled out a similar game called CityFairies: Go providing users with virtual creatures that can be conquered and captured according to the player's position. It is currently the number one free download in Apple's app store in China.
Rumors have it that China's Tencent is going to agent the game in Chinese mainland. The report was later denied by Tencent.