Shares in Nintendo Co Ltd jumped as much as 7.5 percent to a two and a half-year high on Wednesday after China temporarily lifted a 14-year-old ban on selling video game consoles.
The move could pave the way for Nintendo, Sony Corp and Microsoft Corp to enter the world's third-largest video game market in terms of revenue.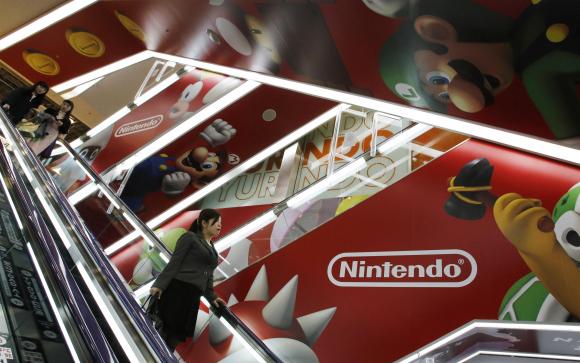 People ride an escalator past Nintendo Co advertisements at an electronics retail store in Tokyo April 23, 2013. [Photo/Agencies] 
"Nintendo hasn't had a catalyst for a long time, so if it can revive (via) the Chinese consumer market then it would be positive," a Tokyo-based trader said.
Still, console makers are likely to face an uphill battle in a country where a whole generation has grown up without a Wii, PlayStation or Xbox. The most popular video games in China are often free to play with gamers only paying for add-ons such as weapons or extra lives.
Price may also be a problem for console makers looking to expand in China. More than 70 percent of Chinese gamers earn less than 4,000 yuan ($660) a month, according to Hong Kong-based brokerage CLSA, not much more than the price of a new Xbox One in the United States.
Another possible hurdle is the availability of illegal consoles, which are modified to run pirated games.
A Nintendo spokesman said on Tuesday the company was still unsure what the opportunities were in China.
Its shares, the seventh most-traded on the main board so far on Wednesday, rose 6.8 percent to 15,280 yen, while the benchmark Nikkei average gained 1 percent.
The Tokyo-based trader said Nintendo was also benefiting from a weaker yen. The Japanese currency was quoted at 104.69 yen to the dollar, not far from a more than five-year high of 105.45 yen set on January 2.
In contrast, shares of Sony, whose business extends beyond game consoles and which is less sensitive to a weaker yen, slipped 0.2 percent to 1,796 yen. Sony's stock outperformed its rival in 2013, rallying 91 percent against Nintendo's 55 percent.