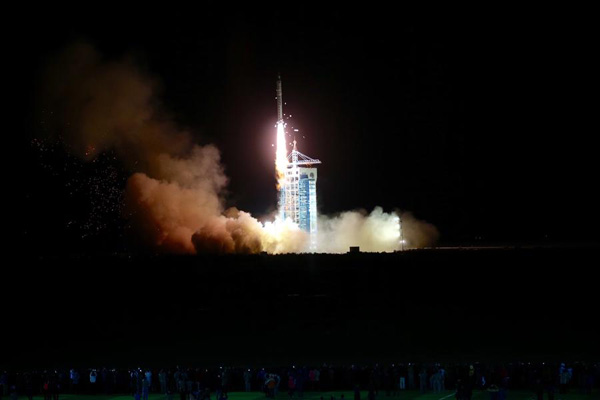 A Long March 2-D rocket carrying China's first microgravity satellite, the SJ-10, blasts off at the Jiuquan Satellite Launch Center in Gansu province at 1:38 am on April 6, 2016. [Photo/Xinhua]
The world's first satellite that can achieve quantum communication between the space and the Earth will be launched in July, a leading expert in the field said on May 21, the news website ThePaper.cn reported.
Pan Jianwei, a quantum expert and an academician of the Chinese Academy of Sciences, revealed the news at a seminar held in Shanghai.
The satellite is dedicated to quantum science experiments, and it will serve as evidence that China is leading the world to achieve satellite-earth quantum communication, Pan said.
"There are many bottlenecks in the information security. The Edward Snowden case has told us that the information in the transmission networks are exposed to risks of being monitored and being attacked by hackers," Pan said.
As the basic unit of matter to carry energy, the quantum is inseparable and could not be copied, Pan said. The no-cloning theory of quantum mechanics is a breakthrough that ensures data encoded in photons is secure on the networks and cannot be captured or copied during transmission, he said.
Pan also said that the 2,000-km quantum communication main network between Beijing and Shanghai will be fully operational in the second half of this year. Government agencies and banks in cities along the route can use it first.
President Xi Jinping visited the control center of the Beijing-Shanghai quantum communication main network in April in Hefei, capital of Anhui province, during his field-study tour to the province from April 24 to 27.
In 2012, Pan's group built the world's first metropolitan area quantum network in Hefei, linking 46 nodes to allow real-time voice communications, text messages and file transfers.
The quantum satellite is part of the country's Strategic Priority Program on Space Science that started in 2011 and planned to launch four satellites by the end of the year.
The first satellite of this program, a dark-matter satellite, has been launched into space in December last year and is collecting data. The second, the country's first microgravity satellite, the SJ-10, was successfully launched on April 6 this year.
A hard X-ray telescope for black hole and neutron star studies is also expected to be launched in the second half of this year.