Shanghai on its way to becoming a quantum technology hub
Updated: 2015-08-04
( chinadaily.com.cn )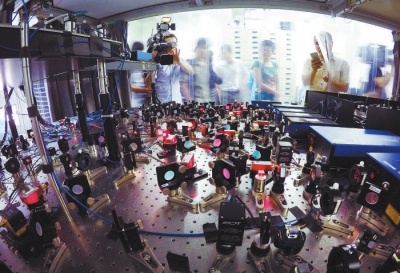 The quantum computing laboratory established by the Chinese Academy of Sciences and Alibaba[Photo/Pudong Times]
Chinese Academy of Sciences (CAS) representatives were present at a launch ceremony for its innovation center for quantum technology, in the Pudong district of Shanghai, on July 30, to develop quantum communications and quantum computing for satellite navigation, submarine location and oil exploration.
Present at the ceremony was Pan Jianwei, head of the center and vice-president of the China University of Science and Technology (USTC), who explained that USTC has come up with many leading scientific developments in quantum technology, which refers to a theoretical computation system using quantum computers that make direct use of quantum-mechanical phenomena to perform operations on data.
Pan went on to comment on the new center by saying, "the development of quantum technology will offer China a great opportunity to transform from a follower to a leader in information technology."
While the launch ceremony was taking place, USTC, which is affiliated with CAS, also signed a cooperation agreement with the Zhangjiang National Innovation Demonstration Zone, in Shanghai, with the goal of applying quantum information theory to technology.
Pudong is one of USTC's key quantum technology research bases and has provided considerable support for the research, which will play an important role in making Shanghai a global center for innovation in science and technology, according to the local government.
The private e-commerce giant Alibaba is also contributing to the quantum technology research effort in Shanghai. The company is working with CAS in establishing a quantum computing laboratory in Shanghai at an annual cost of 30 million yuan ($4.8 million) for five consecutive years.