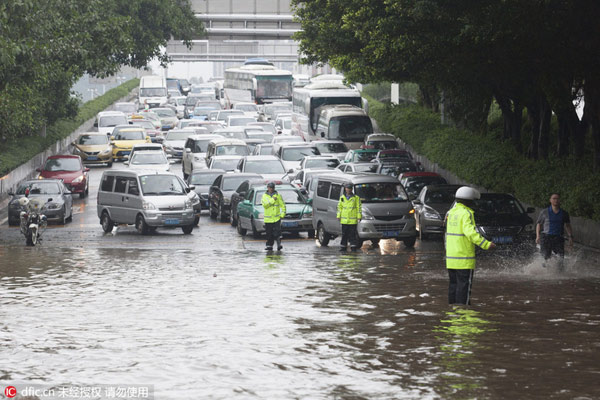 Police officers stop vehicles in front of a flooded road section in Guangzhou, Guangdong province, on May 10, 2016. [Photo/IC]
Heavy rains, full reservoirs and saturated soil combine to create dangerous conditions
China's flood control authority said on Tuesday that there is "a large chance of flooding" along the Yangtze River, Songhua River and Huaihe River this year as a result of increased precipitation during flood season.
Zhang Jiatuan, a spokesman for the State Flood Control and Drought Relief Headquarters, said the authority would not exclude the possibility of other rivers flooding because water levels in South China are higher than previous years, with the storage of water in lakes and reservoirs also significantly higher than usual.
"The soil water content is also saturated in many areas, and the possibility of a regional flood, flash flooding and landslides has also increased," he told a news conference on Tuesday.
Zhang said the water levels in major rivers in South China are even higher than levels in 1998, when the country's major rivers last experienced massive flooding.
River basins of the Yangtze, Songhua and Nenjiang rivers experienced more than 70 days of torrential rainfall in the summer of 1998, and at least 1,800 people died in the resulting floods, with more than 100 million people affected.
As of Monday, 480 counties in 14 provincial areas in South, Southwest and East China have been hit with floods. The floods and secondary disasters were responsible for the deaths of 74 people this year. They also forced the relocation of 323,400 people and affected 7.48 million residents across China, according to the headquarters.
In one of the most recent cases of flooding, days of heavy rain have affected about 500,000 people in 25 counties in Hunan province, with about 18,000 evacuated and 4,000 in need of emergency supplies, the provincial flood and drought relief headquarters said on Monday.
In the Guangxi Zhuang autonomous region, two people died and 240,000 others have been affected as rainstorms battered the region's north and east, forcing more than 11,000 people to evacuate, according to the regional department of civil affairs.
Wang Jinxing, an official at the Hydrology Intelligence and Forecasting Center of the Ministry of Water Resources, said the authority predicted that East China could be battered with a prolonged rainy season in June and July.
He added that the amount of precipitation during the East Asian rainy season will also be higher than usual this year, which increases the chances of flooding.
Zhang, the spokesman, said a priority for the country's flood prevention efforts is to protect people from flash floods and secondary disasters such as landslides.
Every year, flooded streams and medium-sized rivers account for 70 to 80 percent of flood-related casualties nationwide, according to the flood control headquarters.
Xinhua contributed to this story.
xuwei@chinadaily.com.cn