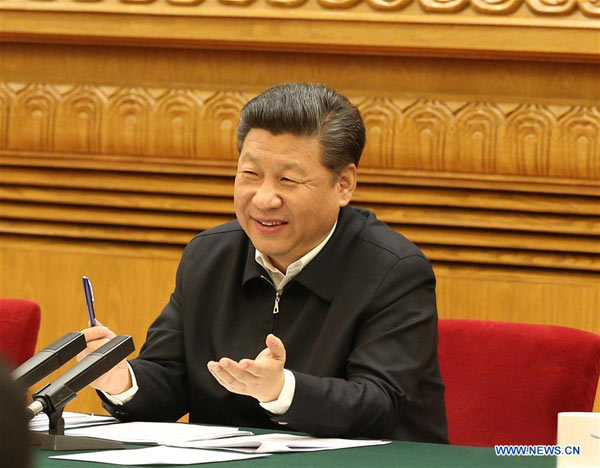 Chinese President Xi Jinping, also head of the central Internet security and informatization leading group, presides over a symposium on cyberspace security and informatization in Beijing, capital of China, April 19, 2016. [Photo/Xinhua]
President Xi Jinping on Tuesday called for "more tolerance and patience" toward netizens and welcomed online criticism, "whether mild or fierce", as long as it arises from goodwill.
Xi made the remarks at a rare, high-profile meeting as the country's 700 million internet users got more say in social governance and public events.
The president also urged speeding up legislation of a cyber-law, improving legal supervision and preventing risks caused by the internet.
Xi's speech resonated greatly among entrepreneurs, experts and officials.
Shen Yi, deputy chief of cyberspace management research center at Fudan University, believes spring of the internet is coming, referring to how the speech addressed the internet's development in China and its strategies.
Jack Ma, founder and chairman of Alibaba Group, said, "This is the first high-profile meeting in the internet field for our country. Not only does the meeting show how much China values the internet as a national strategy, but the country has a quite high level in both practice and theory on the development of the internet. I'm firm about the internet development in China after the speech."
Xiong Huang, a researcher at Communication University of China, said the speech is a framework for the development and application of the internet in the future, to benefit the people and nation better.
Zuo Xiaodong, vice president of the China Information Security Research Institute said "The firm leadership helps guarantee cyber security and informatization, concerning the nation's long-term development." And he also said "There will be a new phase for internet development in China."
Lu Zhengyao, chairman of UCAR Technology Inc, said internet companies assemble the most innovation, talent, creativity and ideas, which can contribute more to society.
Tang Xujun, director of the Institute of Journalism and Communication at CASS, said "China is transforming its role from a follower, a peer into a leader in the development of internet information. The internet has been playing a growing, crucial role in economic development in China."
Zheng Lei, assistant to the dean in School of International Relations & Public Affairs in Fudan University said: "To develop our internet industry, we can do so much more in fields like big data, integration between online and offline, data share and access, shared economy and others."
As a tech veteran in R&D of fundamental technology in internet and information, Yao Hongyu said he was inspired by the speech.
He said financial benefit is not the only goal when it comes to network security or information technology. "We have to focus on our fundamental technology and basic theoretical research to enhance the internet development in our country," Yao said.
Xiao Xinguang, chief technology officer at Antiy Labs, a Chinese company specializing in antivirus engines, said he was elevated by the speech on network security.
"I would lead the team to create better products for internet security, increasing the ability of internet security defense that was emphasized in Xi's speech," Xiao said.