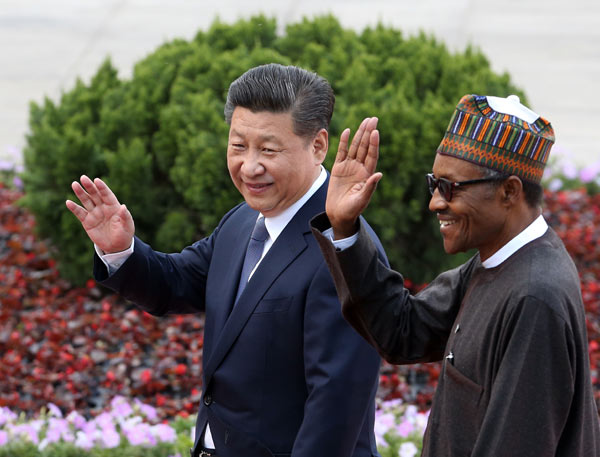 President Xi Jinping and Nigerian President Muhammadu Buhari greet primary school students after reviewing an honor guard during a welcoming ceremony at the Great Hall of the People in Beijing on Tuesday. WU ZHIYI / CHINA DAILY
China vowed on Tuesday to help Nigeria end three bottlenecks containing the biggest African economy's industrialization and agricultural modernization.
President Xi Jinping made the remarks when meeting with his Nigerian counterpart Muhammadu Buhari, who is leading a delegation of 12 ministers, six governors, 35 high-ranking officials and 160 entrepreneurs on his first visit to China since taking office last year.
Buhari is trying to diversify his country's economy, which faces new challenges arising from the fall in oil prices. Nigeria is Africa's biggest oil and natural gas producer.
Xi said during the meeting at the Great Hall of the People: "The development strategies of our two countries fit each other, and our economies are highly complementary. We have huge potential for cooperation."
He proposed helping Nigeria to end bottlenecks affecting infrastructure construction as well as a lack of talent and capital.
The two presidents agreed to deepen cooperation in areas including oil refining, mineral exploration and agriculture.
At a signing ceremony held after the meeting, China's ICBC and Nigeria's Central Bank signed a mandate letter regarding Chinese cooperation and renminbi transactions.
Nigeria was the first African country to include the Chinese currency in its foreign exchange reserves.