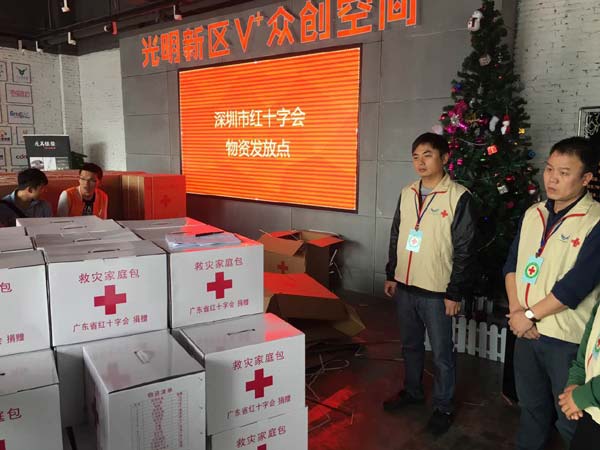 Emergency supplies are provided by the Red Cross Society of China's Shenzhen branch. [Photo by Chaihua/chinadaily.com.cn]
One worker recalled the moment on Sunday when the landslide hit.
"Suddenly, the lights in our factory went out, and we all ran out to see what had happened", he said. "We saw the landslide. ... It had engulfed power lines, and there was also red smoke."
Gao Zhen, deputy general manager of one of the factories, said all his workers fled to safety unharmed. The factory manufactures automatic industrial equipment, including robots. Gao said the hill where the landslide occurred had become a dump site for waste soil. "Earth was piled up on the hill without any reinforcement measures," he said.
He said production at many factories had been in full swing as Spring Festival approaches in February.
The landslide covered an area of 380,000 square meters with earth 10 meters deep, authorities said.
Seven trapped people had been rescued, the Shenzhen government said. At least 16 people were hospitalized, Xinhua News Agency reported.
The State Council has sent a team of senior officials and experts to Shenzhen to oversee rescue work. State Councilor Wang Yong is leading the team.
Xinhua contributed to this story.