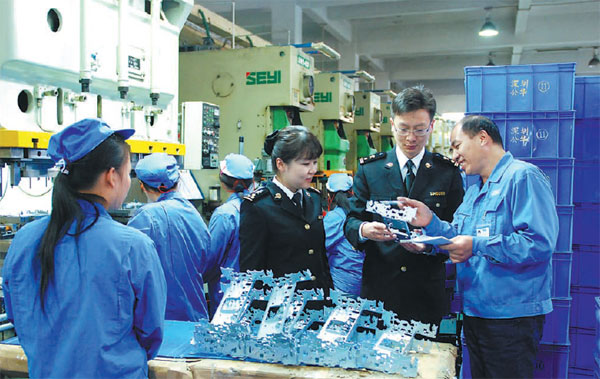 Shenzhen Customs aims to boost the city's trade through simplified processing and better online services. Provided to China Daily
The Customs department has played an increasingly important role in assisting the export growth of high-tech industries in Shenzhen at a time that the southern city, which borders Hong Kong, is sparing no effort to become a national innovation leader.
Statistics from Shenzhen Customs show that exports of Shenzhen's high-tech products were valued at 582.2 billion yuan ($89.7 billion) for the first three quarters of the year, accounting for more than half of the city's total exports and increasing 4.8 percent year-on-year.
The export of drones amounted to 2.3 billion yuan in the first 10 months of the year, 11.4 times more than a year earlier.
To keep Shenzhen competitive as a major global manufacturing and research base for drones, Shenzhen Customs visited the companies involved to learn of any problems and provide tailor-made solutions to shorten clearance times.
For example, Dajiang Innovations Technology Co, a leader in the field, set up a testing and maintenance center in a bonded zone with the help of the local customs department, ensuring that the time for repairs and clearance of their products sold overseas could be greatly reduced.
Internet applied
Shenzhen Customs also launched an official WeChat public account on Dec 1, which issues timely information regarding the department and provides 24-hour tracking of clearances.
It also enables users to monitor 16 services in five categories, including the status of a customs declaration and examination and the process of administrative cases.
A second WeChat public account, opened by Shenzhen Customs and the China Merchants Group, allows companies in the pilot free trade zone and bonded zone of the Qianhai and Shekou area to learn the real-time status of their containers and import and export goods, and the berthing schedule of ships.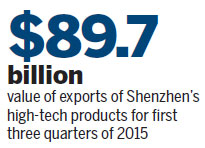 More than 2,300 corporate users in the zone have registered with the account since July 18, with an average of 1,400 visits a day.
The customs department also promotes the use of the Internet and replaced paper documents with Internet data collection as one of its reforms this year.
The move allows companies to fill out customs declarations at their workplace rather than having to travel to a customs office, and can save more than 10 million yuan in paper costs each year, according to Shenzhen Customs.
In order to explore domestic and overseas markets for processing companies in the city, Shenzhen Customs is also undertaking research with the Longgang district government on setting up an online platform for a manufacturer to consumer model, according to Customs.
Training for exporters
Shenzhen Customs have provided training to exporters so they can more effectively apply for the required international documentations, including Authorized Economic Operator and Customs-Trade Partnership Against Terrorism certificates, to shorten customs clearance times.
From Nov 1, China's General Administration of Customs and the European Union have mutually recognized each other's AEO designations.
Chinese companies with AEO labels can access priority clearance at customs offices in 28 EU countries. They require fewer inspections of their goods, which facilitates quicker handling and lower transport costs.
In addition to hosting workshops to help companies better understand the benefits of the international programs and improve their internal control management and safety performance of their supply trains, Shenzhen Customs has also visited 36 companies to assist in the process of obtaining AEO certification.
With the help of Shenzhen Customs, qualified companies in the city can enjoy simplified processing and fast clearances in the United States, EU countries, South Korea, Singapore and Hong Kong, which will help them sharpen their international competitiveness.
Customs figures show that imports and exports between Shenzhen and the EU rose 0.6 percent year-on-year to nearly 200 billion yuan in the first 10 months of this year, which was 0.5 percentage points higher than that during the first nine months.
Given the importance of intellectual property protection in global markets, Shenzhen Customs has also paid much attention to monitoring the intellectual property situation of high-tech companies.
Customs officials have given regular seminars on laws and regulations, as well as special training on IP protection to improve the awareness of the public and companies.
It has also strengthened communications with the local industry and commerce departments, the IP organization, public security organs and courts to exchange information and carry out joint actions to crack down on any violation.
Shenzhen Customs discovered 68,000 items that infringed on IP rights in the first 10 months of 2015, which were valued at about 5.2 million yuan.
chenhong@chinadaily.com.cn
(China Daily 12/21/2015 page7)