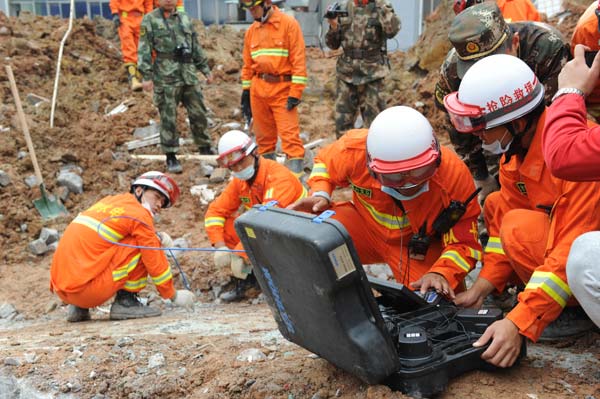 Rescue workers search for signals of life with detectors on the debris of a landslide site at an industrial park in Shenzhen, Guangdong province, Dec 22, 2015.[Photo provided to chinadaily.com.cn]
Nearly 3,000 rescue workers were racing against time on Monday to search for dozens of people missing after Sunday's landslide at an industrial park in Shenzhen, Guangdong province.
At around 6 am Tuesday, the first body was recovered from the landslide site, Xinhua News Agency cited rescue headquarters as saying.
By 2:30 pm Tuesday, the number of missing in the disaster in Guangming New District was reduced to 76 from 81, including 50 males and 26 females, said Liu Qingsheng, deputy mayor of Shenzhen, at a press conference.
A name list of the missing was also released at the press conference.
Trucks and excavators were working at the scene, while many of those affected waited some distance away, hoping to return to their homes to retrieve some valuables if they had not been destroyed.
The industrial park has been sealed off, leaving the remaining factory buildings and shops almost empty, except for some firefighters and other rescue workers, who were resting after spending nearly the whole night on rescue work.
Liu Guonan, a geotechnical expert at the China Academy of Railway Sciences, said the landslide was the largest he had seen, adding, "The mud is deep, making it difficult for workers and vehicles to get through."
Rescue work was continuing at six sites simultaneously. Signs of survivors had been detected at one site, said Lai Xiaolian, deputy chief of the Shenzhen Firefighting Department Command.
Lai said the rescue work is very difficult because the disaster involves "more than a landslide", being a mix of mudflows, landslides and collapsed buildings.
Survivors have been settled in temporary shelters, including a gym, where more than 100 workers from a factory in the industrial park were housed.