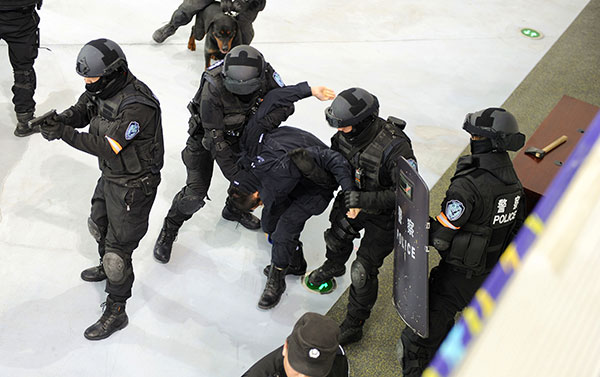 Police seize a simulated gangster during an emergency drill in Urumqi, Xinjiang Uygur autonomous region, earlier this month. The scenario involved a female audience member at a sports event who was kidnapped by two gangsters with knives. MA YUAN/CHINA DAILY
BEIJING - Chinese lawmakers on Monday began reviewing draft legislation on the nation's first counter-terrorism law.
The draft, tabled for a third reading at the ongoing bimonthly session of the National People's Congress (NPC) Standing Committee, is China's latest attempt to address terrorism at home and help maintain world security.
One notable change in Monday's text is an updated definition of the term "terrorism."
According to the new draft, terrorism is defined as any proposition or activity -- that, by means of violence, sabotage or threat, generates social panic, undermines public security, infringes personal and property rights, and menaces government organs and international organizations -- with the aim to realize certain political and ideological purpose.
A statement from NPC Standing Committee said the new definition had been informed by a Shanghai Cooperation Organization (SCO) counterterrorism convention, and the UN's Declaration on Measures to Eliminate International Terrorism.
A previous version of the draft law, submitted in February, did not cover personal and property rights or political and ideological purpose.
"[China] opposes all extremism that seeks to instigate hatred, incite discrimination and advocate violence by distorting religious doctrines and other means, and acts to eradicate the ideological basis for terrorism," the new draft read.
In a separate clause, it said no institutions or individuals shall fabricate and disseminate information on forged terrorist incidents, report on or disseminate details of terrorist activities that might lead to imitation, nor publish scenes of cruelty and inhumanity in terrorist activities.
None, except news media with approval from counterterrorism authorities in charge of information distribution, shall report on or disseminate the personal details of on-scene workers, hostages or authorities' response activities.