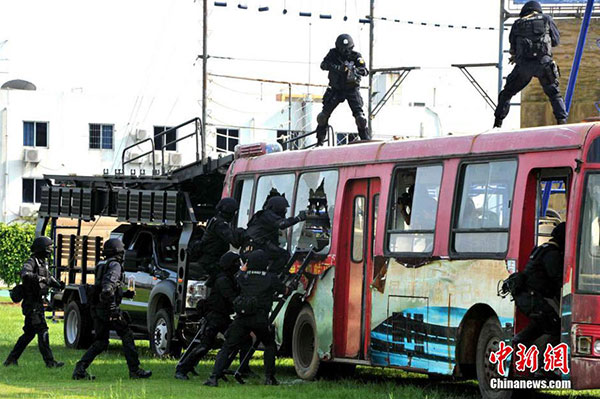 Armed police take part in an anti-terror drill in Fuzhou, East China's Fujian province, June 9, 2014.[Photo/Chinanews.com]
The clause was specifically revised to restrict the distribution of terrorism-related information by individual users on social media, according to a statement from the NPC Standing Committee.
The new draft also stipulated details on the entrance of emergency states and extraordinary measures to be taken in cases of terrorist attacks involving pathogen of infectious diseases and particularly severe incidents.
China does not currently have anti-terrorism legislation, though related provisions feature in various NPC Standing Committee decisions, as well as the Criminal Law, Criminal Procedure Law and Emergency Response Law.
The NPC's standing committee passed a decision to improve anti-terrorism work in October 2011, but it was never made into law.
The lack of a systematic law in this field has hampered China's fight against terrorism, with measures deemed not forceful enough, analysts say.
In one of most deadly cases, twenty-nine people were killed and scores more injured by knife-wielding assailants at a train station in Yunnan's capital city, Kunming, on March 1, 2014.
Terrorist attacks have brought greater urgency for a counterterrorism law. The first draft of the law was submitted for review in October and the second draft in February.
It is rare in China for a law or an amendment to go through three readings and not be passed. One exception was the property law, which was passed in March 2007 after eight readings.
In separate panel discussions on Monday afternoon, lawmakers agreed that terrorism was the common enemy of mankind, and that both China and the world are facing a complicated battle.
The timely adoption of a counterterrorism law is, thus, imperative to safeguarding China's national and public security and the safety of its people's lives and property, as well as to the enhancement of international counterterrorism cooperation.
It was agreed that the draft law was already "quite mature" and it was suggested it be put forward for approval, a NPC Standing Committee statement said.